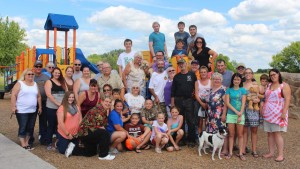 By Hannah Black on Jul 3, 2016 at 8:14 p.m. (Grand Forks Herald)
CROOKSTON, Minn.—Eight Brooks siblings gathered with family at Highland Park on Sunday afternoon, marking the second time in three decades they had been together at the same time.
The siblings called the event the Brooks Family Reunion—around 50 family members attended. But they also surprised their mother, Lois, with an early 80th birthday celebration that included gifts and a cake.
Lois Brooks of Crookston was surprised to see her eight children and so much of her family in one place.
"It's pretty overwhelming," she said, smiling.
Lois is a foster grandmother at Tri-Valley Head Start, where she looks after children younger than 15 months. She has almost 70 grandchildren and great-grandchildren of her own, but her family is normally scattered across the country. But that changed Sunday, as her children and many of her relatives talked, laughed and shared a meal.

Devlyn Brooks of Moorhead, Minn., the youngest of the eight, said planning the reunion began in February 2015. It took a long time because it's hard to coordinate so many people, he said. In 30 years, the only other time all eight siblings gathered was about 15 years ago for their grandmother's funeral.
"So it's the first time (in 30 years) we've gotten together for something good," he said.
Dan Brooks of Sauk Centre, Minn., the oldest Brooks sibling, grilled hot dogs and hamburgers. A line of family members served themselves from trays of food that covered three long picnic tables.
Laura Sweet of Atlanta, Georgia, the third oldest of the Brooks siblings, said making the food was a collaborative effort among the family members. There were even extra coolers so family members could take leftovers home.
A member of the family made a Minnesota Vikings-themed cornhole game, complete with gold and purple beanbags. They organized a tournament in which the winner would keep the cornhole set. Deborah Koolstra of Michigan, the fourth Brooks sibling, made gift bags for the kids.
Devlyn said he was pleased with how the event turned out.
"It surpassed our expectations," he said.