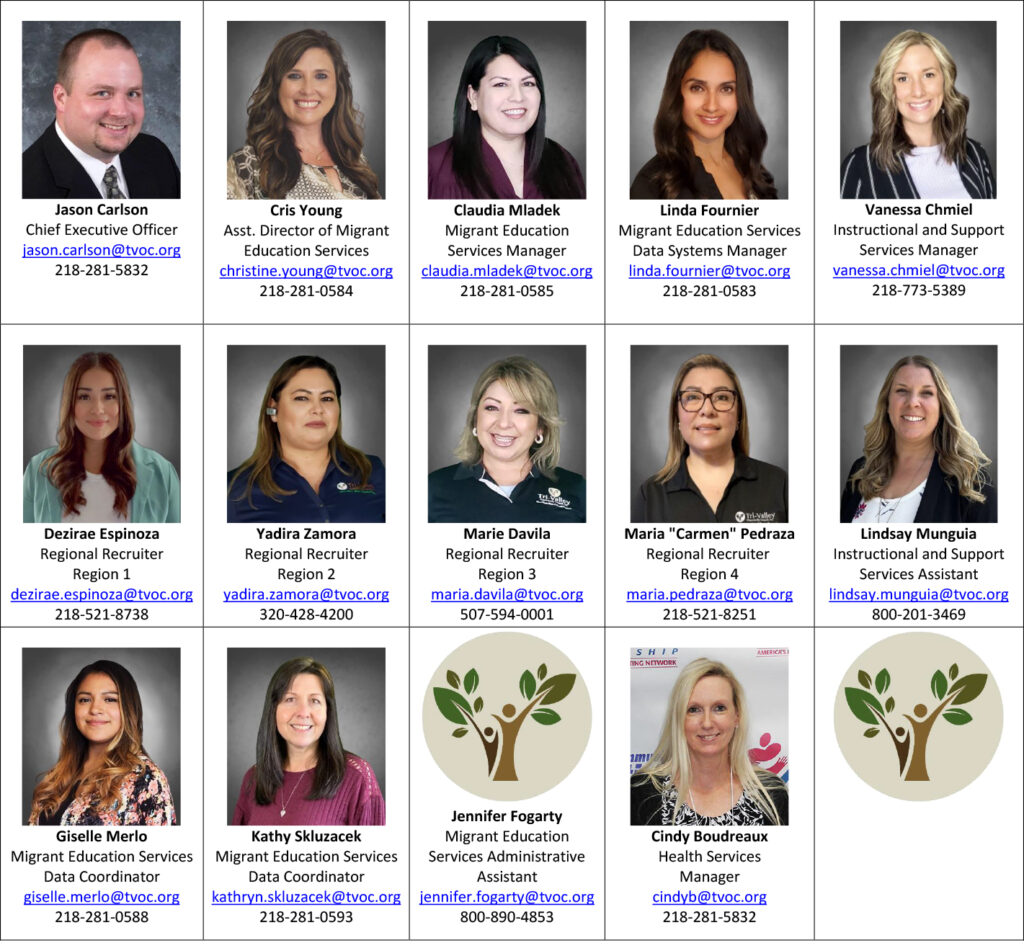 CONTACT US


The Minnesota Department of Education partners with Tri-Valley Opportunity Council, Inc. (TVOC) Migrant Education Services department to:
Identify and recruit migrant children ages 0-21 who have not received a high school diploma or equivalent
Determine eligibility for the Title IC Minnesota Migrant Education Program
Collect all Minimum Data Elements for migrant student records
Manage the state migrant education data base (MIS2000)
Manage the national migrant education data base (MSIX)
Conduct quality control measures, such as re-interviews
(Minnesota Migrant Education Services Hotline – 800-890-4853)
Minnesota Department of Education Migrant Education Program – The Minnesota Migrant Education Program (MEP) provides educational and support services to eligible migrant children and youth. Some school districts in the states of Minnesota and North Dakota have summer Migrant Education Programs for school-age children. Summer Migrant Education Programs are funded through the state of Minnesota and North Dakota. Major funding within the program includes: MN Title I Part C, ND Title I, CTC, USDA, Special Education, and School District Funding.
Notice of Authority to Request Records – The MDE contracts with the Midwest Migrant Education Resource Center (MMERC) and Tri Valley Opportunity Council (TVOC) to identify and support migratory students. These agencies, under MDE's supervision, are authorized to request and obtain any educational information and/or data not limited to transcripts, assessment scores, and health-related requests such as immunizations, vision and dental information. Districts are expected to comply with records requests from MMERC and TVOC following the required procedures under FERPA to record disclosures.
Responsibilities of Migrant Liaisons and Certified Migrant Liaisons – Districts are asked to assign a migrant liaison and provide their contact information in MDE-ORG. Districts may also authorize their migrant liaison to receive 'Certified' status through additional training.
Administrative Offices
Crookston Administrative Office
107 N. Broadway, Suite 200
Crookston, MN 56716
218-281-5832
800-584-7020
Le Center Administrative Office
200 East Bowler St.
Le Center, MN 56057
800-890-4853