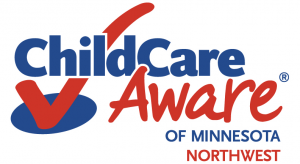 Since opening its doors 25 years ago, the statewide system of agencies has served over 60,000 parents looking for child care and more than 100,000 child care professionals seeking education and professional development. Locally, Tri-Valley Opportunity Council, Inc. delivers Child Care Aware services to seven counties in Region 1 (Roseau, Kittson, Marshall, Pennington, Red Lake, Polk and Norman).
With well over half of Minnesota's children spending some portion of their day in child care and over 13,000 licensed/regulated care facilities operating in the state, child care is a key component of Minnesota's economic, social and educational picture. Mounting research suggests that the early years represent a time of profound brain growth and development for children. Growing numbers of parents and policymakers understand the need to connect children with well-trained caregivers and high-quality programs to stimulate learning. Child Care Aware of Minnesota is leading this conversation by helping families find the type of quality child care their children need to grow and supporting the professional growth of child care professionals.
Formerly the National Association of Child Care Resource and Referral Agencies (NACCRRA), Child Care Aware of America is leading efforts to create a unified national brand for their affiliate organizations.
To contact Child Care Aware:
Call: 1-800-543-7382
Mail: Child Care Aware
1424 Central Ave NE
East Grand Forks, MN 56721
Email: ann.austin@tvoc.org or mhams@tvoc.org