Many of our migratory families have reported a need for school supplies, affordable housing, food assistance, transportation, affordable childcare, and access to affordable medical and dental care. Fulfilling these physiological and safety needs would help the human body to function optimally so students have a better chance of educational success. Due to limited funds, we are always looking for free resources that would benefit our migratory families and children. If your organization would be able to help provide much-needed resources or services for our students to be successful, please let me know how you can help.
We are also looking for new avenues to educate people about the Migrant Education Program. If your organization can help with spreading the word, this link will take you to our brochures and posters on our webpage that can be sent to anyone interested.
If you would like us to add your agency's information to our Minnesota Resources page or if you have any questions contact Cris Young at Christine.young@tvoc.org or 1-800-890-4853.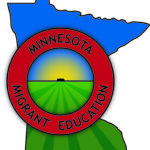 Do you know anyone that has food insecurities? Check out these summer resources!
Open Summer Food Service Programs (SFSP) Sites to the Public
Households can use the following resources to locate open SFSP sites throughout Minnesota. These resources rely on information from CLiCS, so keep your CLiCS applications up to-date to ensure accurate information is shared with the public.
* Download the summer food app, Free Meals 4 Kids provided by Hunger Impact Partners to your phone or device.Call the 211 Hotline. From a cell phone – Twin Cities Metro Area:651-291-0211, Greater Minnesota: 800-543-7709, Teletypewriters (TTY): 651-291-8440.Call the Minnesota Food HelpLine at 888-711-1151, available from Monday–Friday, 10 a.m.– 5 p.m.
* Text "USDA" to texting service. Text "Summer Meals" to 914-342-7744. Spanish speakers, text "Verano" to 914-342-7744.
Find a Food Pantry Near You with FoodFinder
For anyone who works to combat food insecurity, FoodFinder is an online resource that can help. FoodFinder's nonprofit website and mobile app act as food pantry locators that help anyone in need find when and where to get help from food pantries and hot meal sites nearby. With info on 45,000+ food assistance sites on their interactive map, they've already served more than 2 million Americans nationwide. Be sure to let your clients and colleagues know about FoodFinder or message their team directly at info@foodfinder.us with questions or to request free shipments of printed info cards & flyers!