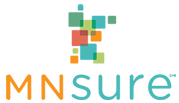 MNsure is a one-stop health insurance marketplace where individuals, families and small businesses will be able to get quality health coverage at a fair price. MNsure will empower more than 1 million Minnesotans to compare, choose, and get help finding health care coverage. It will facilitate enrollment in public and private health insurance, determine eligibility for premium tax credits and allow Minnesotans to shop and compare between health care coverage options.
For more information about MNsure, how it will benefit Minnesota consumers and businesses, and how to provide input visit www.mnsure.org.
Beginning January 1, 2014, all U.S. citizens and legal residents will be required to have health insurance coverage. For those Minnesotans and small businesses who are uninsured, underinsured, or looking for new coverage choices, MNsure is a new marketplace where Minnesotans and small businesses can shop, compare, and choose the plan that is best for them.
Two new MNsure informational fact sheets are now available to download.
For local assistance contact Kayte at 800-820-7263.