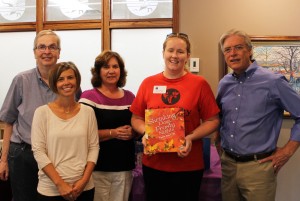 SMIF on 06/23/2016
OWATONNA, Minn., June 23, 2016 – Representatives from early childhood organizations gathered at the office of the Southern Minnesota Initiative Foundation (SMIF) in Owatonna today to celebrate 14 years of the BookStart program and 26 new BookStart awardees.
This year, SMIF awarded 10,000 books with a total value of $172,650 in partnership with Capstone, a leading publisher of children's books and digital products and services. Together, the organizations have placed approximately 89,000 books into the homes of children across southern Minnesota. The goal is that every child has a book of his or her own at home to read or be read to by family members, which promotes a life-long love for reading.
Studies consistently show that reading at a young age drastically improves a child's educational trajectory. Not only does reading aloud help children acquire early language skills, it fosters curiosity and memory and helps children develop positive associations with reading.

"Reading should be fun, accessible and engaging, for both children and their caregivers. Capstone has been a great long-time partner with our BookStart program towards this goal," said SMIF's President and CEO, Tim Penny. "We believe investing in our young children is a long-term strategy that will pay big dividends for our communities and businesses."
"Awardees find so many creative ways of getting these free books in the hands of kids," said Teri Steckelberg, SMIF's Early Childhood Director. "Some projects give children books when they get free meals at the summer lunch wagon. Others give books to adult basic education students who are just learning English so they can read to their child, often for the first time."
The following organizations received BookStart grants because they provide outstanding early literacy opportunities for young children and their families. The organizations will incorporate the books into their programs and events where young children will receive books to take home and keep.
Albert Lea Area Schools
Blooming Prairie Public Schools
Blue Earth Public Schools & Muir Library
Fairmont Area Schools
Freeborn County Public Health
Gibbon-Fairfax-Winthrop Schools
Kenyon-Wanamingo Public Schools
Kingsland Public Schools, Spring Valley
La Crescent Public Library
Le Sueur-Henderson Public Schools
Mankato Area Public Schools
Medford Public Schools
New Prague Public Schools
New Ulm Public Schools
Rushford-Peterson Schools
SEMCAC Head Start, Winona
Sleepy Eye Public Schools
Southern MN Education Consortium, Adams
St. Paul Lutheran School, Fairmont
Stewartville Public Schools
The Reading Center, Rochester
Three Rivers Community Action Head Start, Northfield
Triton Public Schools, Dodge Center
Tri-Valley Opportunity Council, Winnebago
Watonwan County Human Services
Wells Public Library
"Literacy is one of the building blocks of lifelong success," said Bill Coughlan of Coughlan Companies, the parent company of Capstone in Mankato. "Capstone recognizes the power of literacy in helping children achieve their full potential, and we know that can start with just one book. Every child is a reader when matched with the right book."
As part of its strategy to invest in economic growth here in southern Minnesota, SMIF has supported early childhood efforts to make certain all children enter school fully encouraged, prepared, and supported for learning success. Over the past ten years, SMIF has invested $1.6 million annually for early childhood development initiatives. SMIF has also established 23 community coalitions as part of the Minnesota Early Childhood Initiative. Each coalition is developing their collective early childhood vision and implementing local projects to strengthen early care and education for young children and their families.
About Southern Minnesota Initiative Foundation:
Southern Minnesota Initiative Foundation (SMIF), a donor-supported foundation, invests for economic growth in 20 Minnesota counties. The Foundation has provided more than $97 million in grants, loans and programming within the region during the past 30 years. SMIF's key interests include early childhood and economic development. To learn more about our work and mission, visit www.smifoundation.org.
About Capstone
Capstone is a leading publisher of children's books, digital solutions and services, literacy programs, and K–12 professional development resources. Capstone creates content in a variety of print, digital and media formats for school libraries, classrooms, and at home reading. For more information, visit www.myCapstone.com.