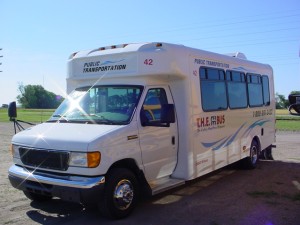 Tri-Valley Transportation also known as T.H.E. Bus (Tri-Valley Heartland Express) is a division of Tri-Valley Opportunity Council, Inc. Tri-Valley is a community action agency serving citizens since 1965 and an Affirmative Action / Americans with Disabilities / Equal Opportunity Corporation.
T.H.E. Bus is a curb to curb service and provides public transportation services to the general public in eight Minnesota counties, Polk, Red Lake, Norman, Marshall, Kittson, Pennington, Mahnomen, and Clearwater. Buses run through these counties on various days with various destinations. Our public transit buses are available with no age limits or income guidelines. Buses have seating available for up to 40 passengers. Each bus is handicap accessible with two accessible entrances. If passengers are unable to use the door he/she may request the use of the lift. Each driver has been trained to properly use the lift and secure mobility devices within the buses.
Transportation services are used for a variety of reasons, which include; medical, nutritional, social, recreational, shopping, work, school, and other personal activities. Destinations include but not limited to; Grand Forks, Bemidji, Thief River Falls, Fargo/Moorhead, and Crookston. Tri-Valley Transportation provides safe, friendly, and dependable transportation at a reasonable price T.H.E. Bus is funded depending on the service it is provided.
In-town and rural transportation is funded through the Public Transportation grant from the Minnesota Department of Transportation. The grant provides 80% operating costs with 20% local match (fare box). This grant is used to enhance access of people in non-urbanized areas to health care, shopping, education, employment, public services, and recreation. It is used to assist in the maintenance, development, improvement, and use of public transportation systems in non-urbanized areas.
For any questions on routes or additional information please call 218-281-0700 / 1-800-201-3432 or email transit@tvoc.org.
| | |
| --- | --- |
| Crookston Transit Office | Thief River Falls Transit Office |
| 1345 Fairfax Ave | Send mail to Crookston office |
| Crookston, MN 56716 | 524 Barzen Ave |
| Local – 218-281-0700 | Thief River Falls, MN 56701 |
| Toll Free – 800-201-3432 | Local – 218-681-6760 |
| Fax – 1-800-475-6494 | Toll Free – 800-951-9363 |
| Email: transit@tvoc.org | Fax – 1-800-475-6494 |
| | Email: transit@tvoc.org |