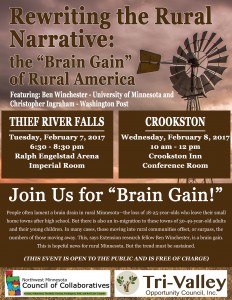 The Northwest Minnesota Council of Collaboratives and Tri-Valley Opportunity Council, Inc., are excited to sponsor a free-of-charge community event, coming to Thief River Falls and Crookston in February.
Rewriting the Rural Narrative: the "Brain Gain" of Rural America is a presentation featuring Ben Winchester (University of Minnesota Extension Research Fellow) and Christopher Ingraham (Washington Post).
People often lament a brain drain in rural Minnesota—the loss of 18-25 year-olds who leave their small home towns after high school. But there is also an in-migration to these towns of 30-49 year-old adults and their young children. In many cases, those moving into rural communities offset, or surpass, the numbers of those moving away. This, says Extension research fellow Ben Winchester, is a brain gain. This is hopeful news for rural Minnesota. But the trend must be sustained.
Two opportunities to take part in the presentation are available. Thief River Falls will host the event on Tuesday, February 7 from 6:30 – 8:30 pm at the Ralph Engelstad Arena (Imperial Room). Crookston will host the event on Wednesday, February 8 from 10 am – 12 pm at the Crookston Inn (Conference Room).The presentation is open to the public and is free of charge.
To learn more about the research presented, please visit www.extension.umn.edu/community/brain-gain/ or www.extension.umn.edu/community/news/newcomers.html.