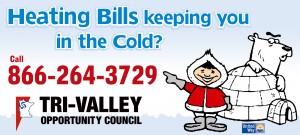 Energy bills during long winters with subzero temperatures can take a large bite out of household budgets. Tri-Valley Opportunity Council, Inc.'s Low Income Energy Assistance Program (LIHEAP) wants families in West Marshall, West Polk and Norman counties to know that help with heating assistance is here if it's ever needed.
LIHEAP consists of three components, primary heat bill, energy crisis, and furnace repairs (if you are a homeowner). For primary heat bill assistance, an application needs to be completed, signed and dated; families need to provide proof of gross income for the three months prior to the month in which they are applying. The assistance is determined on a graduated scale based on family size and income. Energy crisis assists a household from being shut off with a utility company or assists with a minimum fill for fuel oil or propane. Furnace repairs are for homeowners and help cover the cost to repair or replace the furnace.  For the energy crisis and furnace repair program, a household must have qualified for the primary heat portion of the program
Funding is available and is administered on a first-come, first-served basis. Interested households should contact Tri-Valley Opportunity Council, Inc. by calling 218-281-9080, toll free at 1-866-264-3729 or visit the Tri-Valley LIHEAP web page at www.tvoc.org/services/low-income-energy-assistance/.
LIHEAP helps low-income homeowners and renters pay heating bills through grant money paid directly to utility companies and heating fuel vendors on behalf of customers. In 2012, over 1,600 families applied for and received assistance in the Tri-Valley service area and over 160,000 families received assistance throughout the State of Minnesota.