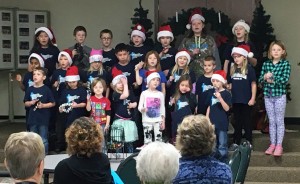 The Tri-Valley Foster Grandparents celebrated a year of volunteering at their Christmas Party on Friday, December 2. The event was held at Trinity Lutheran Church in Crookston.
The event was kicked off with a game called "What's Your Elf Name". That was followed by entertainment from the kindergarten through 4th graders from Our Savior Lutheran School. The children got everyone in the holiday spirit by singing Christmas songs. Prior to brunch, bingo was played which is always a big hit.
The Foster Grandparents enjoyed a brunch of egg bake and muffins. Following brunch, the group joined together and sang some of their favorite Christmas carols.
The event was enjoyed by all of the Foster Grandparents!