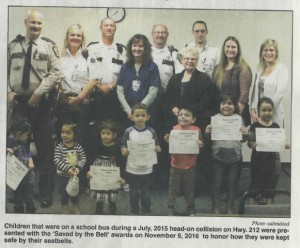 By Caitlyn Mahlum (News Editor, Advocate Tribune)
Thanks to a simple device located in all modern day vehicles, a group of local children were able to walk away from a frightful crash with minimal injuries.
On July 13, 2015 a Tri-Valley Opportunity Council school bus was traveling eastbound on Highway 212 when another vehicle struck the bus. Anthony Blue, 33, of Granite Falls, was driving the 2014 Kia westbound on U.S. 212 around 7 a.m. near the scenic lookout wayside stop when he crossed the centerline and struck the eastbound, 2010 IC school bus driven by Michelle Groen, 52, of Danube. The school bus was operated by the Tri-Valley Opportunity Council, which operates a Migrant Head Start school in Danube.
The occupants survived the crash with almost no injuries, which is accredited due to the fact that the occupants were wearing their seat belts and were properly buckled into child safety seats.
Because of this, Yellow Medicine County Sheriff Bill Flaten alongside Lt. Bruce Erickson of the Minnesota patrol presented 13 individuals with the 'Saved by the Belt Award' on Wednesday, November 9.
The Saved by the Belt Award is given to honor those who utilized the life-saving device. The Minnesota Department of Public Safety describes the award as the following, "The Saved by the Belt program has helped create strong relationships between law enforcement agencies and communities since 1999. Honoring traffic crash survivors who were buckled up is a positive method for agencies to show their communities that seat belt use is important and that officers care that motorists obey the law."
Without seatbelts, the statistics can often be grim and dismal. According to the State Patrol:
In 2015, 91 unbelted motorists died on Minnesota roads.
In the past five years (2011-2015) 527 unbelted motorists lost their lives and 1,035 people suffered life-changing injuries.
Of the 1,379 motorist who lost their lives in the last five years, only 51 percent of them were known to be belted.
In 2015, 77 percent of vehicle occupants who were ejected, or partially ejected, and died were not wearing seat belts.
The Southwest Central Safe Communities Coalition, Minnesota State Patrol, Chippewa County Sheriff's office, Yellow Medicine County Sheriff's Office, Granite Falls Police Department, Granite Falls Hospital and Emergency Medical Services, and the Montevideo Hospital and Emergency Medical services have all partnered together to award 'Saved by the Belt' awards.