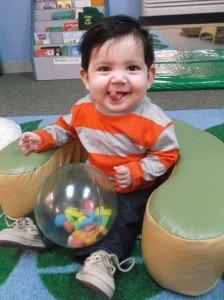 Although the cost of childcare garners most of the attention from the media, did you know that there is a severe lack of licensed childcare providers in Northwestern Minnesota? This lack of childcare puts extreme stress on families, potential employees, employers, and our communities in general.
So what are the numbers? Northwestern Minnesota has a licensed childcare capacity of 7,116 with a 2,623 shortfall with a critical shortage in infant care. A 37% growth in capacity is needed to fill the shortfall. A major cause of this shortfall is that the numbers and capacity of family providers has dropped by more than 25% since 2006. (MN Dept. of Human Services; U.S. Census Bureau)
Quality childcare ranked third in "Community Needs" on the 2016 Tri-Valley Community Needs Assessment Survey. The survey collects data from Tri-Valley's primary service area of west Marshall, west Polk, and Norman counties. In Crookston alone, there are 266 children aged birth to three years old. Unfortunately, there are only 116 licensed spaces for that age group. That leaves 150 children birth to three years at home with a parent or with an unlicensed childcare provider such as a family member or a friend.
Continued discussion is needed now more than ever to start looking for possible solutions to this potential crisis. If you would like to join the childcare conversation, have questions about childcare in our communities, or would like more information on becoming a licensed childcare provider, please contact Maureen Hams (Tri-Valley Community Assistance Program Director) at 1-800-543-7382.