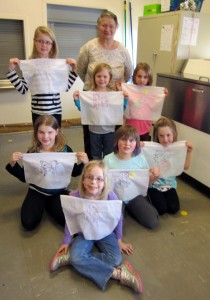 Tri-Valley Opportunity Council, Inc. Foster Grandparent Adeline Woinarowicz wanted to give the kids she volunteers with a new experience. She wanted to teach them a craft, something other than coloring, something "different". The result is an after school program that includes learning how to embroider.
Woinarowicz who has been a Foster Grandparent since 2004 teaches her embroidery skills to kindergarten through first graders (ages 5-9) at Washington Elementary School in Crookston twice a week. She currently has 12 participants in the after school program which is optional for students.
"It's good to see what they can do and it's good to start them at a young age," explains Woinarowicz. "I get so much satisfaction watching the kids improve and they get satisfaction learning and creating something new. They're always asking if they can sew," she adds.
Washington Elementary School Principal Denise Oliver enjoys the program stating, "It's wonderful to see our students learn a craft that they will remember for a lifetime. They have learned a skill that they may not have otherwise tried without the guidance and support of Grandma Addie. We appreciate Grandma Addie sharing her gifts and talents with our students."
For more information on Senior Programs or any programs offered at Tri-Valley Opportunity Council, Inc., call 1-800-584-7020/ 218-281-5832 or visit the website at www.tvoc.org.