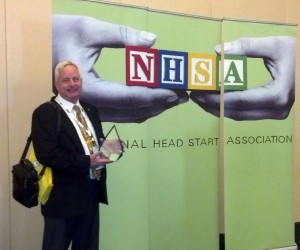 (Crookston, Minn.)- Tri-Valley Opportunity Council, Inc. Chief Executive Officer Dennis P. DeMers was bestowed with the Head Start Pioneers Award at the 2013 Living Our Legacy Luncheon. The luncheon was part of the 40th Annual Head Start Conference held on Wednesday, May 1 in Washington, D.C. and hosted by the National Head Start Association (NHSA).
Denny Demers is the Chief Executive Officer of Tri-Valley Opportunity Council, Inc. in Crookston, Minn. In 1972, he was hired as the Head Start Director for Tri-Valley Opportunity Council, Inc. During his tenure as Head Start Director, DeMers expanded the program to include Migrant and Seasonal farm workers on a statewide basis in both Minnesota and North Dakota. Under his leadership in 1973, Tri-Valley became the sole provider of Migrant Child Care and Head Start in Minnesota. DeMers also led the effort to have Tri-Valley become the first operating Special Summer Food Service Program in the United States. (From the Living our Legacy Luncheon program)
DeMers is well known at the state and national levels for his outstanding contributions to various committees and associations. He is a former Chair of the Government Affairs Committee of the NHSA and a former chair of the Policies and Regulations Committee.  He has served as Past President to the Region V Head Start Association, Past President to the Minnesota Head Start Association, Past President to the Minnesota Head Start Director's Association, and Past President of the Minnesota Migrant Child Development Programs Steering Committee.  He is a member of the Minnesota and National Association for the Education of Young Children, has served on the Minnesota Council on Children, Youth and Families and the Minnesota Governor's Council on Children.  In 2011, Denny received the Administrator of the Year Award from the Minnesota Head Start Association.
The NHSA is a non-partisan, not-for-profit organization committed to the belief that every child, regardless of circumstances at birth, has the ability to succeed in life. The opportunities offered by Head Start lead to healthier, empowered children and families, and stronger, more vibrant communities. NHSA is the voice for more than 1 million children, 200,000 staff and 1,600 Head Start grantees in the United States.
Tri-Valley Opportunity Council, Inc. is a not-for-profit community action agency headquartered in Crookston, Minn. In existence since 1965, Tri-Valley provides services in 84 counties in Minnesota and Northeast North Dakota. The mission of Tri-Valley is to provide opportunities to improve the quality of life for people and communities. For more information on services offered and job opportunities at Tri-Valley visit the website at www.tvoc.org, follow us on Facebook at www.facebook.com/TVOCInc or on Twitter at @TriValley_TVOC.