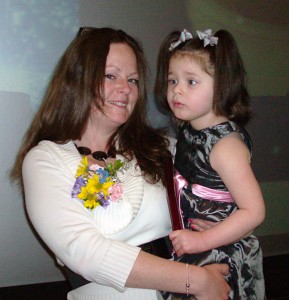 The Minnesota Head Start Association (MHSA) recently honored Coral Essence-Amber Locke as a Minnesota Head Start Hero (Head Start Child who has made tremendous developmental progress). Coral was recognized at the Minnesota Head Start Heroes Ceremony held at the Science Museum of Minnesota in St. Paul, Minn. on March 13, 2013. She attends Head Start through Tri-Valley Opportunity Council, Inc. at the East Grand Forks Family Service Center in East Grand Forks, Minn.
Head Start Heroes is an annual event that honors members of the Minnesota Head Start community who overcame tremendous challenges and achieved personal and family success. These children, families, alumni and staff members have been selected by the Minnesota Head Start Association Scholarships and Awards Committee based on compelling, personal testimonies about their Head Start experience and how they were able to transform their lives. The Head Start Heroes epitomize how determination, fortitude and access to early learning and whole-family approaches can pave the way to lifelong success.
"When I met Coral in September, she was taking just a few steps and spoke just a couple of words," says Lisa Lundsten, Coral's Head Start Teacher. "When she came to school, she chose not to join group times but was very attentive from afar. It wasn't long before Coral decided to join the children by holding their hands and dancing with them," Lundsten adds.
Outside Coral would attempt to take a step to play on the jungle gym but needed assistance. In a matter of weeks, she was walking up the five steps to the jungle gym on her own. Coral is now singing the ABC song and naming most of the alphabet.
"As a teacher, I have been so inspired by her accomplishments. I have one more year with Coral before she is off to kindergarten," states Lundsten. "I am really looking forward to watching this young girl continue to bloom!"
Coral Essence-Amber Locke's story written by her mother Mariah Lewis:
When Coral was 3 months old I found her gray and barely breathing.  She ended up having sepsis with septic shock.  After two weeks in the NICU in Duluth they said I could bring her home.  The whole two weeks at the hospital she was having steady intense seizures.  They had her heavily medicated for this.  So at home she was basically how she was at the hospital – comatose.  Six months after bringing her home I heard her cry for the very first time.  Coral had to learn to do everything all over again; from holding her head up to eating.  Coral and I grew close after hours upon hours, days upon days, months upon months, years upon years of working hard to get her back to "normal".  She had started walking a week before I had sent her to Head Start at the age of 3 years old.  As you can imagine Coral had severe separation anxiety.  It has been 5 months now since Coral was accepted into the Head Start Program.  She, as well as I, have grown and accomplished so much since entering into the program.  Coral is almost running, singing her ABC's, counting past the number 10, spelling her name, letting me say good-bye to her without crying, using a regular cup to drink out of, having fewer outbursts, and making many new friends. In the past 5 months I have seen my baby girl grow and bloom in so many ways I never thought I would see, thanks to Head Start.  She, along with the help of the staff and myself, have put so much effort and work into her progress it is amazing.  I am choosing to nominate my daughter for this award because she deserves it and has earned it.  I want her to see that hard work, dedication, and the desire to grow has tremendous rewards.  I hope you feel the same.  A proud Mother ~ Mariah Lewis.
For more information on Tri-Valley's Head Start/Early Head Start or Migrant & Seasonal Head Start programs visit the Tri-Valley website at www.tvoc.org or call 1-800-584-7020.