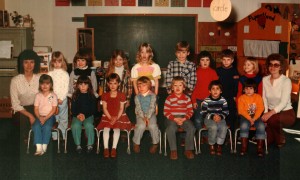 The children that attend the Tri-Valley Head Start, Early Head Start and Migrant Head Start programs have the opportunity to learn from exceptional early childhood educators. Mary Johnson, Program Area Manager with Tri-Valley Head Start is one of those educators who not only had the chance to teach, but also a chance to learn and grow. Johnson's education is not over however as she begins her 36th year (15th year with Tri-Valley) working with the children of Head Start.
Johnson began working with the Head Start program in 1977 as a paraprofessional. At that time, she was a young mother of three children and she hadn't even graduated from high school. The first year that she worked for Head Start, she obtained her GED due to a lot of encouragement from some very supportive co-workers. After joining Tri-Valley, Johnson earned a degree in Early Childhood Education for which she attributes to the continued empowerment that the Tri-Valley Head Start program offers to staff and families. "I have worked with some of the finest and most dedicated people in the world," says Johnson.  "I cannot think of better way that I would have wanted to spend 36 years of my life."
Over the years, she has had the opportunity to serve the Tri-Valley Head Start program in many capacities. Her experiences have included bus driver, paraprofessional, teacher, center manager, area manager and everything in between. She has had the pleasure of watching children grow while expanding their minds, assisting families with setting goals for themselves and being a part of the celebration of the achievement of these goals.
Tri-Valley Opportunity Council, Inc. is a not-for-profit community action agency headquartered in Crookston, Minn. In existence since 1965, Tri-Valley provides services in 84 counties in Minnesota and Northeast North Dakota. For more information on services offered and job opportunities at Tri-Valley visit the website at www.tvoc.org, follow us on Facebook at www.facebook.com/TVOCInc or on Twitter at @TriValley_TVOC.
(Photo)- Johnson is the teacher on the right of the photo with her class from 1982.