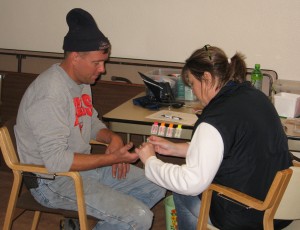 (Crookston, Minn.)- Tri-Valley Opportunity Council, Inc. offered biometric testing to City of Crookston employees on Tuesday, October 23 from 8:30 a.m.-2:30 p.m. at Crookston City Hall. The event had an outstanding turnout with nearly 60 employees taking part in the testing which will directly affect each individual's insurance premiums. This level of biometric testing is a first for Tri-Valley.
In northwest Minnesota, it can be difficult to find a clinic that can perform biometric testing for larger groups of people. Tri-Valley employs several Registered Nurses (RN) and a Registered Dietitian (RD) so it was a great opportunity for Tri-Valley to provide this needed service to City of Crookston employees.
Tri-Valley Opportunity Council, Inc. and the City of Crookston are members of the Northwest Service Cooperative and are in the same health insurance pool through Blue Cross Blue Shield. As a part of Blue Cross Blue Shield's Wellness Pilot Program, employees who are enrolled in a health insurance plan can voluntarily participate in the Wellness Pilot Program's biometric testing (blood pressure, height, weight, waist circumference, cholesterol-ldl/hdl, blood sugar, and triglyceride levels) to receive a reduction in their health insurance premiums for the 2013 benefit year.