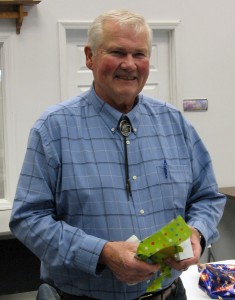 (Crookston, Minn.)- Tri-Valley Transportation held a retirement gathering on Tuesday, November 20 from 2-4 p.m. for bus driver Alan Altepeter. The event was held at the Tri-Valley Transportation Office in Crookston.
Altepeter began driving T.H.E. Bus in 2000. He drove routes in Crookston and throughout Polk County and was a favorite driver of many of the riders he served. Altepeter's driving skills earned him many awards at regional and state bus roadeo's. Altepeter finished third at the 2008 Minnesota Bus Roadeo, second at the 2009 Northern Tier Bus Roadeo, second at the 2010 Minnesota Bus Roadeo and third at the 2011 Northern Tier Bus Roadeo.
T.H.E. Bus (Tri-Valley Heartland Express) is a division of Tri-Valley Opportunity Council, Inc. T.H.E. Bus is a curb to curb service and provides public transportation services to the public in seven Minnesota counties, Polk, Red Lake, Norman, Marshall, Kittson, Pennington and Clearwater.