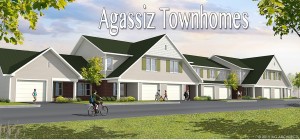 Minnesota Housing, Crookston Housing & Economic Development Authority (CHEDA), the City of Crookston, and Tri-Valley Opportunity Council, Inc., announced today that the Minnesota Housing board has approved the Low-Income Housing Tax Credit application for Agassiz Townhomes in Crookston. Agassiz Townhomes will serve Crookston's lower income workforce, addressing a need of many employers and allowing more workers to live in the community.
"In 2015, we hosted a Housing and Community Dialogue in Crookston and learned about your area's unique housing needs. Just more than a year later, we're pleased to invest in a project that will give 30 families a safe, affordable place to call home. Agassiz Townhomes is a great example of the public, private and nonprofit sectors collaborating to build a stronger community," said Mary Tingerthal, Minnesota Housing Commissioner.
The need for affordable housing to obtain employment continues to grow in the Crookston area. There is currently a vacancy rate of just 0.7 percent for Low-Income Housing Tax Credit properties in the area. To address that situation, Agassiz Townhomes will add 30 rental units to the community, each two or three bedrooms. Four of the units will be for long-term homeless households, with supportive services provided by Tri-Valley Opportunity Council. To qualify, households must have incomes at or below 60 percent of the area median income.
"I am extremely pleased that the strong commitment made by the community of Crookston has been rewarded with a project that addresses a need identified in the latest housing study.  Agassiz Townhomes would not move forward without the contributions of the City of Crookston, CHEDA, our private business partners, Otto Bremer Trust, Greater Minnesota Housing Fund, and the Tri-Valley Board of Directors. The technical assistance provided by Three Rivers Community Action was also invaluable," states Tri-Valley CEO Jason Carlson. "I thank Minnesota Housing for their interest in addressing Crookston's housing needs.  Minnesota Housing's willingness to visit Greater Minnesota communities to learn about housing on the local level is commendable," Carlson adds.
The project will receive $667,154 in nine percent Housing Tax Credits, which will produce an estimated $6,402,871 in syndication proceeds. The Low-Income Housing Tax Credit Program is the largest source of affordable rental housing financing in the United States. The federal government allocates tax credits to Minnesota Housing, which then awards those tax credits to affordable housing developers on a competitive basis. The developers sell the tax credits to investors, who use them to lower their federal tax liability. The developer uses the equity from the sale to build the housing. Buildings must remain affordable for at least 30 years.
Minnesota Housing is the state's housing finance agency and collaborates with partners around the state to create, preserve and finance affordable housing. This funding was part of Minnesota Housing's annual selections for single family and multifamily affordable housing. Each project was chosen through a Consolidated Request for Proposal process where developers and administrators can apply for a variety of financing sources through one common application. This year, $80 million in funding will create and preserve 1,831 affordable housing units throughout the state. These investments leverage private and local resources to support $300 million in affordable housing development, and support more than 2,800 jobs. Individuals can view a catalog of funded developments, maps and a detailed breakdown of all funding selections at www.mnhousing.gov.