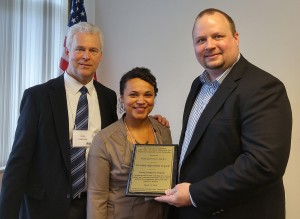 Eight community initiatives with proven results in moving families toward self-sufficiency received Best Practices Awards last week. Minnesota Community Action Partnership, Minnesota Department of Human Services Office of Economic Opportunity, and the University of Minnesota College of Education and Human Development have partnered for the past 11 years to evaluate and to recognize initiatives that aim to end poverty across Minnesota.
The awards go to local Community Action programs that have achieved outstanding and measurable impacts in helping low-income households achieve greater economic self-sufficiency and building partnerships across social service, government and business sectors to better meet the needs of local communities.
Tri-Valley's Caring Companion Program earned the "Promising Practice" Award. The Caring Companion Program consists of companions who are 50 years or older. They help other seniors by visiting with them, taking them to appointments, helping with errands and groceries, playing cards or games, having coffee with them and being a friend to them.  Caring Companions can make a difference in the quality of life for a lonely senior.
"You do not need medical or special skills, all you need is the ability to be a friend.  Caring Companions serve two hours a week and up, depending on the time they have to give and the needs of the clients," says Heidi Simmons, Senior Programs Director. "We are having more requests from Veterans who are lonely or need to get out to do errands etc.  Please think about making that call today to help out others who may not be as fortunate as yourself, it is a win-win situation for all involved."
Tri-Valley has Caring Companion and Foster Grandparent opportunities throughout Northwest Minnesota. For more information on how to become a Foster Grandparent, Caring Companion or how to receive Caring Companion Services call Heidi Simmons at 1-800-584-7020.
(Pictured L-R)- Arnie Anderson (Executive Director of Minnesota Community Action Partnership), Tikki Brown (Director for the Office of Economic Opportunity), Jason Carlson (CEO of Tri-Valley Opportunity Council, Inc.)