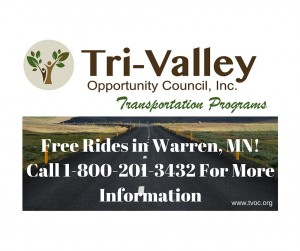 The Tri-Valley Opportunity Council, Inc. Public Transportation Program announced recently that it will offer free public transportation in the city of Warren. This city-wide service begins on June 6 and runs until August 29. Free rides will be available on Monday's from 10 am to 3:30 pm. Following August 29 the cost of a ride will be just $1.
For any questions or to schedule a ride on the Tri-Valley Heartland Express (T.H.E. Bus) in Warren, please call Tri-Valley Public Transportation at 1-800-201-3432. More information about Tri-Valley Transportation Programs can also be found at /services/transportation/.
T.H.E. Bus is a curb to curb service and provides public transportation services to the general public in eight Minnesota counties, Polk, Red Lake, Norman, Marshall, Kittson, Pennington, Mahnomen, and Clearwater. Buses run through these counties on various days with various destinations. Our public transit buses are available with no age limits or income guidelines. Buses have seating available for up to 40 passengers. Each bus is handicap accessible with two accessible entrances. If passengers are unable to use the door he/she may request the use of the lift. Each driver has been trained to properly use the lift and secure mobility devices within the buses.