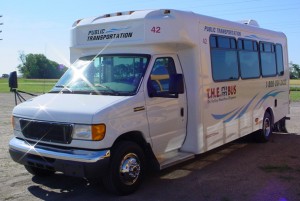 The Tri-Valley Opportunity Council, Inc. Transportation Program had an opportunity to provide transportation to a unique group of riders in April. Tri-Valley's T.H.E. Bus was utilized to transport players, coaches, and staff from teams competing in the International Ice Hockey Federation (IIHF) Ice Hockey World Championship U18. The event was held in Thief River Falls on April 6-12.
Transportation was provided to and from practices and games and to their hotels. The international teams included Switzerland, Slovakia, Russia, Latvia, and Finland. A total of 1,775 rides were given and 291.5 miles were covered during the week. "This was a seven day tournament so I think the numbers are impressive," states Marion Henry (Transportation Program Coordinator). "Our drivers worked well with the schedules that they were given and the teams appreciated the service. I think the drivers did a wonderful job."
The International Ice Hockey Federation (IIHF; French: Fédération internationale de hockey sur glace) is a worldwide governing body for ice hockey and in-line hockey. It is based in Zurich, Switzerland, and has 74 members. It manages international ice hockey tournaments and maintains the IIHF World Ranking.