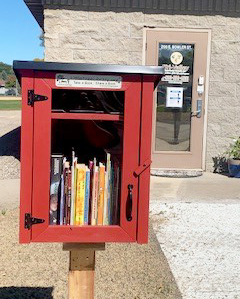 Little Free Libraries are a global phenomenon. The small, front-yard book exchanges number more than 100,000 around the world in over 100 countries — from Italy to Brazil to Japan. Now, a new Little Free Library at 200 East Bowler Street, Le Center will join the movement to share books, bring people together and create communities of readers.
Tri-Valley Opportunity Council, Inc. a nonprofit organization whose mission is to provide opportunities to improve the quality of life for people and communities, will host a grand-opening party for their Little Free Library on Monday, October 18th from 2:30 PM to 4:30 PM, open to the public. Participants are invited to bring a blanket and snuggle up with a good book in the park while enjoying a snack and refreshments provided by Tri-Valley Opportunity Council. We will also have a drop off site for any book donations that you may have.
"These books are always a gift, never for sale. It is our hope that this Little Free Library will provide our community with more access to books for people to enjoy while they build their love for reading and develop their literacy skills" states Cris Young, Assistant Director of Migrant Education Services for Tri-Valley. Kathy Skluzacek, Data Coordinator adds "If you don't like to read, then you haven't found the right book." The excitement continues within the Tri-Valley staff as the Migrant Education Services Manager, Claudia Mladek, explains "There is nothing wrong with reading books digitally; however, I think this is a great opportunity, especially for younger children, to experience the joy of holding a book and turning the pages."
Little Free Library® (LFL) is a nonprofit organization that inspires a love of reading, builds community and improves book access by fostering neighborhood book-exchange boxes around the world. LFL received the 2020 World Literacy Award and has been recognized by the Library of Congress, the National Book Foundation and others for its dedication to expanding book access for all. To learn more, visit LittleFreeLibrary.org.