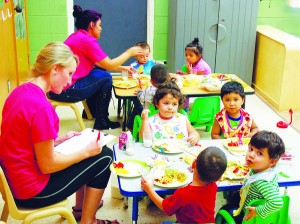 Courtesy of Jason Sorensen – Sentinel Staff Writer, Fairmont Sentinel
The Tri Valley Opportunity Council Inc., along with Head Start, incorporated in 1965, is celebrating 50 years of operation.
Originally founded in Crookston for the purpose of fighting the causes and effects of poverty, the organization has since initiated more than 100 different programs. In order to celebrate the day, an open house was held in the Winnebago Center on Wednesday.
According to Nicolee Mensing, program area manager for Tri Valley, the council is a community-action agency, similar to Minnesota Valley Action Council.
Young children enjoy a meal as the Tri Valley Opportunity Council celebrated its 50-year anniversary on Wednesday in Winnebago.
Originally, the service area for the council consisted of Polk, Norman and Marshall Counties near Crookston. When the agency began, the need for programs such as Head Start and Migrant Head Start became apparent, and the council soon expanded.
The Winnebago site is one of 15 centers in the area, located in the education building at St. Mary's Catholic Church. It hosts Migrant and Seasonal Head Start, an early childhood education program with the goal of preparing children for kindergarten nationwide. The program primarily helps families whose parents work at Seneca Foods in Blue Earth, but is open to other eligible families as well.
The center primarily operates June through October, tied to the seasonal agricultural needs of the Seneca plant, when migrant families are working their hardest.
According to Mensing, the centers provide comprehensive services, including transportation; full day services from 7 a.m. to 3 p.m.; nutrition services, including breakfast, lunch, and snacks; and qualified teaching staff. The Winnebago site includes an infant, toddler and preschool rooms, each with a bilingual staff person to help children communicate and understand what is happening.
"The main goal of all Head Start Programs is school readiness," Mensing said. "We also want to prepare families to have their kids in school, and to help them be able to make that transition. While most people may think that school readiness is a bit early for infants and toddlers, we believe it is important to start at an early age."