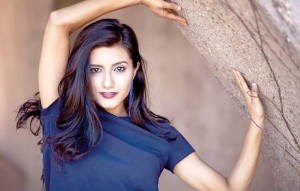 Article and Photo by ASHLEY STEWART astewart@owatonna.com (Owatonna People's Press)
OWATONNA — Shaylma Salinas of Owatonna always saw herself working behind the scenes.
"I thought I'd be successful, but I'd be helping someone else bring something to light because I was always scared," she said.
And Salinas admits she still is.
"I'm a little scared yet, but I feel like I can use this experience to help others," she said.
But something changed this spring.
In addition to graduating from Hamline University with bachelor's degrees in political science and biology in May, Salinas was also crowned Miss Minnesota Latina 2015.
"I was just in shock," she said.
Salinas, who has considered herself shy since high school, said she decided to compete in her first pageant this spring after watching Miss Universe 2014.
"I was like, 'Wow, these women aren't only beautiful on the exterior, they're beautiful on the interior and they're doing great things in their own communities,'" she said.
So, in February she applied to compete in the May 23 pageant in St. Paul.
"I really, really liked it," Salinas said. "It really challenged me to get out of my comfort zone."
And with her new-found confidence, she's aiming high.
Since being crowned Miss Minnesota Latina, Salinas has returned to Owatonna and is working as a toddler head-start teacher at Tri-Valley Head Start, studying for law school, and hoping to start a chain of Operation: Move for School in the community.
Operation: Move for School, which was started by a former Miss Minnesota Latina, is a non-profit organization working to improve nutrition and physical fitness for youth and adults in underdeveloped communities in Minneapolis.
The organization also offers an eight-week fellowship program where high school seniors and juniors can learn about the disparities and controversies surrounding sexual, physical, nutritional, mental and economical health in urban areas.
"Through discussion and activities, they will make connections about how it resonates to their own communities," Salinas said. "Students will then create their own plan to improve their neighborhood and by the end of the summer, implement it."
Salinas wants to bring that program to Owatonna.
"I think it's important to have a program like this located in southern Minnesota," she said. "It's a great way for students to learn how they can give back to their community and at the same time learn leadership skills."
Salinas said the program would be geared toward people between the ages of 10 and 21.
"It's not set in stone, but I hope to have something before the end of the summer," she said.
Salinas said she knew she wanted to do a service project in Owatonna after a 10-day mission trip in April with her church, Iglesia Linaje Escogido, to El Salvador.
"It was probably the best decision I ever made," she said. "One of the things I set myself to do, before the pageant, was to do a service project to help youth in my own community.
"After I got back, I said, 'Once summer starts, I'm going to flesh out some ideas.' Then, I won the crown, and it gave me a chance to reach out to more people and organizations."
Salinas said she'd like to believe she would've wanted to start the organization here before winning the crown, but she said she doesn't know if she would've had the confidence to do something big.
"I know I would've done service projects here and there, but I don't think I would've thought bigger," she said.
Salinas will compete in the 2015 Miss U.S. Latina Pageant from Aug. 30 to Sept. 6 in Riviera Maya, Mexico.
"I'm nervous, of course," she said.
But Salinas said, if she doesn't win, she doesn't think she will continue to pursue pageantry.
"It just happened to come my way, and I wanted to try it," she said. "It was something personal I wanted to do to get outside of my comfort zone and challenge myself."
Salinas said her dream is to attend law school to create change surrounding medical policy and legal issues within the health care system.
"I really want everyone to have accessible health care and quality care," she said.
She said she doesn't know exactly what that will entail, but she's ready.
"I am only 22, so I still have a lot of growing up to do, but I feel like I've done so much and I feel like I have the potential do something more," Salinas said. "I'm always aiming high."