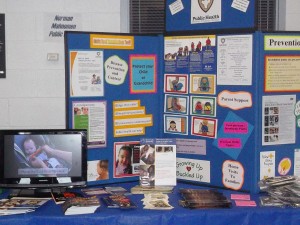 Tri-Valley Opportunity Council's West Adventure Center (WAC) in Hendrum, Minn. hosted the Norman County Parent Workshop on Saturday, March 9 at the Norman County West Elementary School. The event had several sessions and speakers with topics that were geared to both parents and children.
Workshop sessions focused on reducing stress, organization, budgeting, relaxation, fitness, and nutrition. Each session ran four times throughout the day so attendees could take part in all workshop sessions. Norman-Mahnomen Public Health and The Family Voice and Choice Network also had information at the event for those looking for more information on services provided by those programs.
One attendee said, "These were all great topics to improve your family life. Thank you so much for giving me the opportunity to learn new things."
Another stated, "Loved this. Please have again. I attended "What are we Feeding our Children", and the speaker was excellent."
The Norman County Parent Workshop was made possible by the Bank of the West Grant, Tri-Valley, and the Norman County West School District.