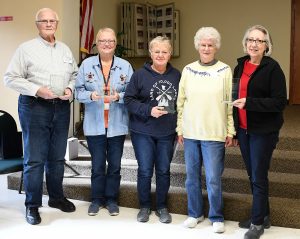 The Tri-Valley Opportunity Council, Inc. Foster Grandparent Program held its annual recognition luncheon at the Crookston Eagles Club on Wednesday, October 10, 2018.
Jeanette Larson, Senior Programs Manager began the event by welcoming the Foster Grandparents and guests to the banquet. Jason Carlson, Tri-Valley's CEO thanked all of the volunteers for the difference they are making in the lives of others in our communities.  Jason then introduced the newly hired Director of Senior Programs, Marley Melbye. Marley shared about herself and how excited she is to begin this position and how she is looking forward to working with the Foster Grandparent Program.  Kristal Abrahamson then introduced the Advisory Board members.
Sally Erickson was the speaker for the day.  Sally Erickson holds degrees in Business and English Writing from Concordia College in Moorhead, Minn. She has spent most of her career as a technical writer in the software industry.  She has also written a book entitled Letters to HEAVEN.  This is Sally's story about cancer, death, and hope.  The volunteers really enjoyed her presentation.
Following Sally's message, the "World of Difference" awards were given to individuals who were nominated by professional staff at their volunteer site. "With the little things you do every day, your impact spreads far and wide. Your commitment to improving lives inspires and motivates us all… You make a world of difference." is engraved on the award along with the recipients' name.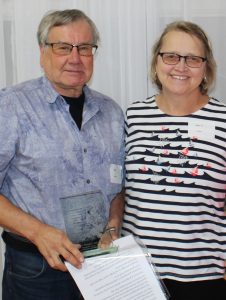 Recipients of the World of Difference Award are Grandma Doris Pontow (Discovery Place Early Learning Center, Thief River Falls, 6 year volunteer), Grandpa Milo Trangsrud (Challenger Elementary School, Thief River Falls, 2 year volunteer), Grandma Kathryn Haider (St, Michaels School, Mahnomen, 6 year volunteer),  Grandma Mary Steinbrenner (Magelssen Elementary, Fosston, 4 year volunteer),  Grandma Linda Stelzer (St. Joseph's Elementary, Moorhead 2 year volunteer) and Grandpa Art Wood (Dorothy Dodds Elementary School, Moorhead 1 year volunteer) .
For more information on how to become a Foster Grandparent, Caring Companion or how to receive Caring Companion services, please call Marley, Jeanette, Jean, or Kristal at 1-800-584-7020.