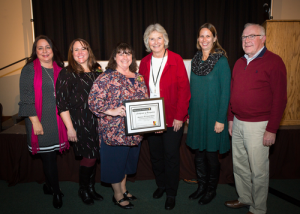 Minnesota Commissioner of Health Jan Malcolm praised the recipients for their service to their communities as well as their work to improve health and reduce health inequities. "We are fortunate in Minnesota to have so many talented and dedicated people working to protect, maintain and improve our health," Commissioner Malcolm said. "These awards recognize our public health professionals, elected officials, and volunteers for the many ways they help make Minnesota's residents and communities healthier."
At this ceremony, the Meeker-McLeod-Sibley Healthy Communities Leadership received a Certificate of Recognition for their commitment and contributions to advance public health locally. In its 20 years of operation, the MMS Healthy Communities Leadership Team works to coordinate health promotion and maximize its resources. It serves as the community health board's SHIP community leadership team, provides competitive mini-grants to community projects focused on priority health issues, and coordinates a joint community health needs assessment with local hospitals. Through collaboration, the group tackles priorities together, like creating portable breastfeeding stations and addressing barriers to preschool transportation.
Allie Elbert, Meeker-McLeod-Sibley Community Health Services, and Nancy Mellesmoen, Tri-Valley Opportunity Council, accepted this award on behalf of the MMS Healthy Communities Leadership Team.
For more information on the Meeker-McLeod-Sibley Healthy Communities Leadership Team, please visit www.mmshealthycommunities.org .