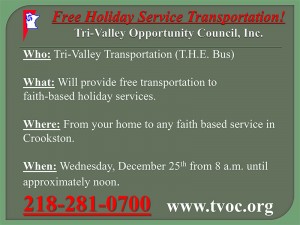 Tri-Valley Transportation announced today that T.H.E. Bus will run on the morning of Wednesday, December 25th for those who are attending faith-based holiday services in Crookston.
T.H.E. Bus will run from 8 a.m. until approximately noon on the 25th. The rides are free of charge and will only run from people's homes to faith-based services/organizations and back to their homes. Only riders who have scheduled a ride in advance will be picked up. To schedule a ride to a holiday service, please call toll-free 1-800-201-3432 or locally 218-281-0700.
T.H.E. Bus is curb-to-curb public transportation, available to everyone with no age limit or income guidelines. Each bus is handicap accessible with two accessible entrances. If passengers are unable to use the door he/she may request the use of the lift.