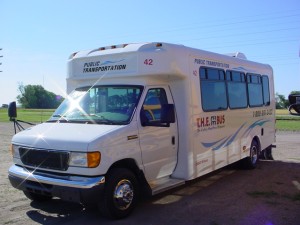 (Article courtesy of the TRF Times & Northern Watch, http://www.trftimes.com)
About 78,700 rides were given by Tri-Valley Heartland Express (T.H.E.) Bus in 2012, an increase of about 9 percent.
Jennifer Booth, transit program coordinator, attributes the increase to T.H.E. Bus offering more rural service. She also pointed to an increase in the number of kids riding the summer rec bus last year in Thief River Falls. Twenty-five kids rode the summer rec bus in 2011. Last year, that number jumped to 60.
Besides the summer rec bus, T.H.E. Bus offers two city routes in both Thief River Falls and Crookston, a route in Bagley/Clearwater County, and rural routes in Pennington, Kittson, Marshall, Polk, Red Lake, Norman and Clearwater counties. It offers routes between the two campuses of Northland Community and Technical College, and a full-time University of Minnesota, Crookston route. It also offers dial-a-ride curb-to-curb service in both Thief River Falls and Crookston.
Currently, a rider calls T.H.E. Bus to reserve a seat. The dispatcher then types or writes the information onto an Excel spreadsheet, which is then given to the driver. If there are any changes while the driver is on the bus, the dispatcher radios that change to the driver.
However, that will soon change. By Aug. 1, T.H.E. Bus plans to install a new computer system that will feature a tablet on each bus. Dispatchers will be able to type an additional stop onto or remove a stop from a particular driver's route, which will soon show up on the driver's tablet and schedule. Dispatchers will also be able to see via GPS if the bus breaks down. This will make it easier to see which driver is closer to where an added rider needs to be picked up.
T.H.E. Bus expects this computer system will save money. "We should be able to save, we figure, about three to five gallons of fuel per bus," Booth said.
The buses and dispatch will continue to have two-way radios in case there is an emergency or a bus breakdown.
The change will make it easier for Booth to fill out required reports related to the number of elderly or kids riding T.H.E. Bus, and whether individuals are using the buses' lifts.
To ride T.H.E. Bus in Pennington County, call the Thief River Falls office at 681-6760. To ride T.H.E. Bus in Polk or Red Lake counties, call the Crookston office at 218-281-0700. The cost is $2 each way if a rider calls the day prior to riding the bus. If the rider calls the same day, the cost is $3 to a destination and $2 to return. NCTC students ride the bus for $1 each way if they present their college ID. Bus passes are available for $10 from the drivers. The passes are worth $12 in bus rides.
To ride the NCTC bus, the cost is $12 round-trip. Booth noted many people ride that bus to visit family or shop in the Grand Forks area. The cost of rural bus service is pro-rated based on mileage.
To ride the summer rec bus in Thief River Falls, the cost is $55 for one student or $125 per family. The pass includes unlimited bus rides during June, July and August. Booth noted students may ride the summer rec bus to baseball, tennis or swimming lessons. They may also ride the bus, for example, from daycare to Grandma's house or from their home to the library. Students have a badge attached to a lanyard that they present to the driver when getting onto the bus.
T.H.E. Bus in Crookston serves as a stopping point for Jefferson Lines. Riders may purchase a ticket there for Jefferson Lines and ride that bus line from Crookston to their destination.