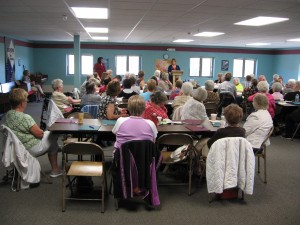 Lori Tate CSFP Program Coordinator, North Country Food Bank and Susie Novak Executive Director North Country Food Bank were guest speakers at the Tri-Valley Foster Grandparent and Senior Companion In-Service held at Trinity Lutheran Church in Crookston.
Tate spoke about the NAPS Program, the Nutrition Assistance Program for Seniors which is available for income eligible individuals age 60 or over. If they qualify they would receive a 38 pound box of food each month.
Novak shared about what the food bank has to offer, the areas served, where the products come from and how they are distributed. She also shared about the school backpack program and how it works.
The event attended by Foster Grandparents and Senior Companions from NW MN.