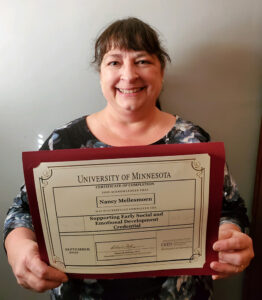 Nancy Mellesmoen (Early Childhood Coach) has completed all required coursework to earn the "Supporting Early Social Emotional Development" (SESED) credential, from the Reflective Center at CEED, University of Minnesota.
Being deeply rooted in attachment theory, this credential brings the science of development, the brain, relationships and stress biology as tools of integration. These tools are then used to better understanding of the early social and emotional needs of infants, toddlers, and preschoolers, as well as the adults who care for them.
Strong relationships set the stage for healthy development. The coursework, for the SESED credential, addresses each of the knowledge areas listed for Infant Family Specialist, Category II Endorsement through the Alliance for the Advancement of Infant Mental Health. Minnesota's infant mental health organization is the Minnesota Association for Children's Mental Health-Infant Early Childhood Division (MACMH-IEC).