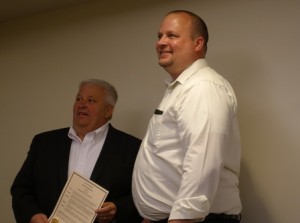 (story and photo courtesy of KROX-AM)
Two Mayoral Proclamations were at the top of the agenda at the Crookston City Council meeting on Monday night. Tri-Valley Opportunity Council Director, Jason Carlson, was on hand as Mayor Wayne Melbye proclaimed May 2017 as "Community Action Month."  Carlson commented, "What we have going on here in Crookston is unique – it doesn't happen everywhere." Melbye proclaimed May 7-13, 2017 as "RiverView Health Week." On hand to accept the proclamation were CEO Carrie Michalski, CFO Betty Arvidson, and Vice President of Ancillary Services, Lance Norman. Michalski commented that RiverView will continue their quest to "keep the Crookston community healthy.
The Council also heard the first reading of regulation modifications recently made to the City's sign ordinance. Discussion on the proposed changes will take place at the Council's May 22 meeting.