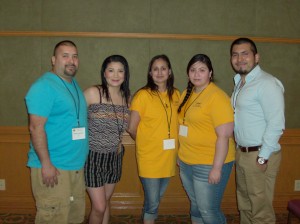 The National Migrant and Seasonal Head Start Association (NMSHSA) Parent Conference was held March 19-22, 2015 in McAllen, TX.
The Opening Session Speaker was Sammy Benavides.  In 2012 Sammy was selected for the NMSHSA Summer Internship Program which means he lived and work in DC for an intensive eight-week internship and professional mentoring program. The goal is to provide life altering experiences and networks to help students make the intellectual, cognitive, and emotional transition from agricultural life to that of a professional.
As a child Sammy attended the Tri-Valley Migrant Head Start program in Grafton, ND.
(Photo L-R)- Michael Casteneda, Dora Casteneda, Diana Escamilla, Teresa Luque, and Sammy Benavides.
Michael to Teresa are members of the Tri-Valley Migrant and Seasonal Head Start/Early Head Start Policy Council:  Michael (Alternate Hendrum), Dora (Representative Hendrum and Ad Hoc to the Tri-Valley Board of Directors), Diana (Representative Elysian), and Teresa (Representative Danube and President).