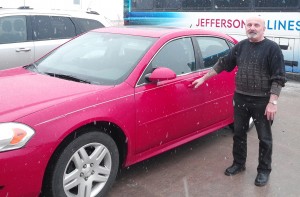 Tri-Valley Opportunity Council, Inc.'s Rural Transportation Collaborative (RTC) Program is a curb to curb, mileage based public transportation volunteer driver program. People are transported for various approved purposes. Volunteer drivers are available seven days a week with extended hours with the core service area is Polk, Red Lake, Pennington, Norman, Marshall, Roseau and Kittson counties. However, the program has working agreements with multiple other counties and has provided transportation to customers that have appointments as far as Minneapolis, Rochester as well as many North Dakota destinations.
RTC is currently looking for drivers. RTC is a partnership program that coordinates volunteer drivers to transport those who have no other means of transportation or cannot drive. For more information on becoming a driver visit the RTC webpage at www.tvoc.org to fill out an application or call Marcia at 1-866-884-2695. The RTC drivers donate their time and are reimbursed the IRS rate per mile they drive to cover the expenses they occur while on the road.
If you are in need of a ride through the RTC Program, please call Marcia at 1-866-884-2695 for more information.