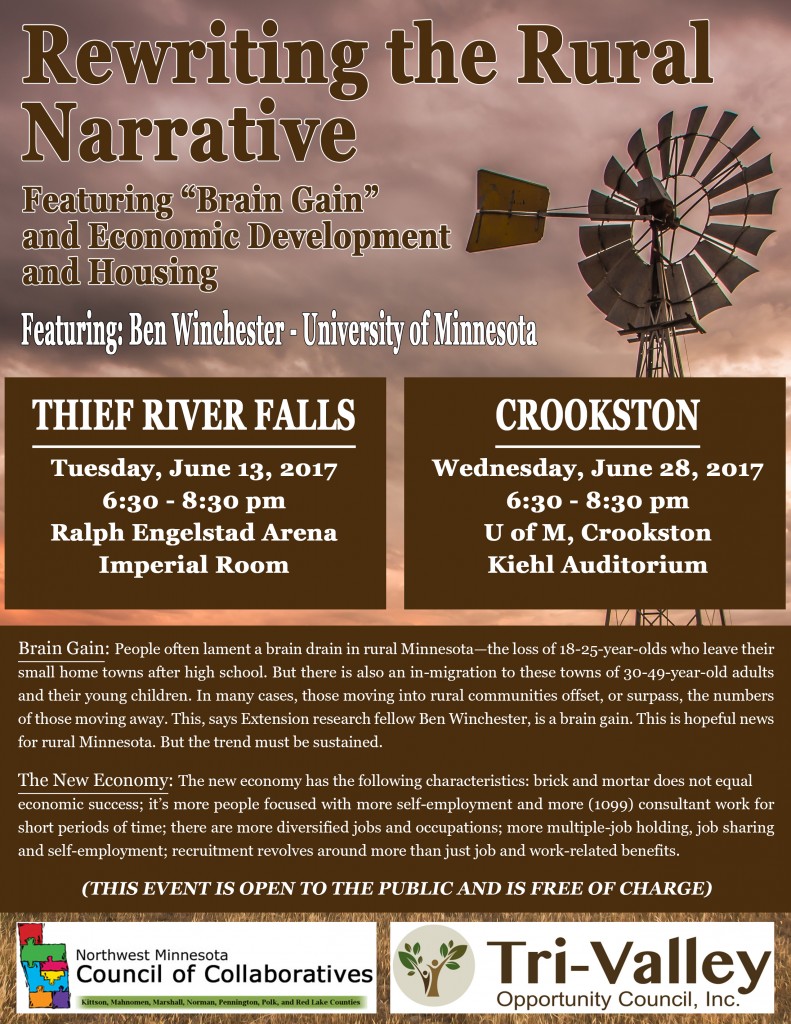 The Northwest Minnesota Council of Collaboratives and Tri-Valley Opportunity Council, Inc. are excited to announce that Ben Winchester will be back to the area by popular demand.  Winchester will give his presentation in Thief River Falls on Tuesday, June 13 and Crookston on Wednesday, June 28. These presentations are a free-of-charge community event.
Winchester and Christopher Ingraham presented Rewriting the Rural Narrative: the "Brain Gain" of Rural America in February and it was so well received that more dates were set. This presentation will be slightly different with an hour focusing on the "Brain Gain" and an hour focusing on rural economic development and housing
The Brain Gain: People often lament a brain drain in rural Minnesota—the loss of 18-25 year-olds who leave their small home towns after high school. But there is also an in-migration to these towns of 30-49 year-old adults and their young children. In many cases, those moving into rural communities offset, or surpass, the numbers of those moving away. This, says Extension research fellow Ben Winchester, is a brain gain. This is hopeful news for rural Minnesota. But the trend must be sustained.
The New Economy: The new economy has the following characteristics: brick and mortar does not equal economic success; it's more people focused with more self-employment and more (1099) consultant work for short periods of time; there are more diversified jobs and occupations; more multiple-job holding, job sharing and self-employment; recruitment revolves around more than just job and work-related benefits. The bottom line for rural towns is a simple one, Winchester said. "The bottom line is people want to live and move here for what you are today and will be tomorrow, not what you may have been."
Two opportunities to take part in the presentation are available. Thief River Falls will host the event on Tuesday, June 13 from 6:30 – 8:30 pm at the Ralph Engelstad Arena (Imperial Room). Crookston will host the event on Wednesday, June 28 from 6:30 – 8:30 pm at the University of Minnesota Crookston (Kiehle Auditorium).The presentations are open to the public and free of charge.
The Northwest Minnesota Council of Collaboratives is an informal partnership comprised of a variety of organizations from individual county collaboratives representing Kittson, Marshall, Mahnomen, Norman, Pennington, Polk and Red Lake counties.
Tri-Valley Opportunity Council, Inc. is a non-profit community action agency headquartered in Crookston, Minn. In existence since 1965, Tri-Valley provides services in 84 counties in Minnesota and Northeast North Dakota.