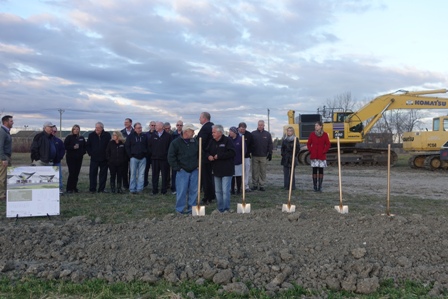 (Article and photos courtesy of KROX Radio) The Agassiz Townhomes project officially became a reality on Wednesday, October 25th, as a number of area dignitaries, including Senator Mark Johnson, and County Commissioners Don Diedrich and Gary Willhite, and Amy Larson from Minnesota Housing, joined Executive Director at Tri-Valley, Jason Carlson, and representatives from local businesses, along with City and Crookston Housing and Economic Development Authority (CHEDA) staff to break ground at the construction site at the corner of Fisher Avenue and Broadway.
Carlson stressed the fact that the project represented both quality partnerships and perseverance.  "It's our job to identify needs in our communities, and Crookston had an identified housing need a few years ago. For three years now, Tri-Valley has been working with CHEDA, the City, private employers, Otto Bremer Trust, Minnesota Housing, and now Wells Fargo Bank, to put together a needed housing project. It's one of many things we're doing in the community. I really think that this is a great example of how Tri-Valley's Board of Directors is committed to the community of Crookston." he said.
Vice Mayor and Council Member, Dale Stainbrook praised the affordable housing aspect of the project, saying, "I like the fact that this is income-based housing for our workforce. It's a step for them to move to the community, get employed with one of our businesses, and it's a stepping stone for a lot of these tenants; it's housing they can afford, and if they stay here long enough, we hope that they will buy a home and become part of the community. I think this is going to be a tremendous plus. If we get this in, I think other projects will follow. We still need a variety of single family, affordable workforce housing, and I think this is the first step to reach that goal."
City Administrator, Shannon Stassen, seconded Stainbrook's words, adding, "Workforce housing is very important, and we've been hearing for a number of years that Crookston needs more of it. This project has been three years in the making, so hats off to Jason Carlson and everybody else involved in sticking around and seeing it through. These houses are going to be important for people who ultimately help our businesses to succeed. We need a workforce, and we need affordable housing for those people who come here to Crookston and fill those jobs, so it's vital, and we just can't thank Tri-Valley enough for taking this on – not just today, but long-term."
And CHEDA Executive Director, Craig Hoiseth said that it was really the creative partnerships that made project reality. "The partnerships were everything in this project. The application stood out at Minnesota Housing because the City of Crookston, CHEDA, the 15 businesses, Tri-Valley, Three Rivers … you name it, it just goes on and on. People who were in support of this project came out full-throttled, with dollars behind them, and enthusiastically embraced this project. The end result is that a good collaboration brings forth a good project, and we look forward to seeing 30 townhomes delivered for Crookston residents in about a year," he said.