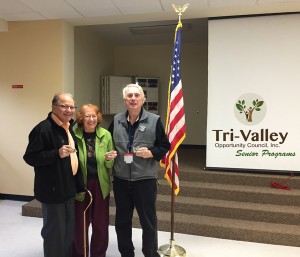 Local Foster Grandparent In-service training puts spotlight on veterans serving through Senior Corps
Tri-Valley Opportunity Council, Inc's. Foster Grandparent Program of NW MN, in partnership with the Corporation for National and Community Service (CNCS), recognized veterans who have continued their service to America as Senior Corps volunteers.
The event, held in Crookston on November 6, recognized these dedicated individuals as members of National Veteran Corps, which is part of a larger effort to raise awareness of the value veterans bring to communities.  The event is one of nearly 200 ceremonies featuring National Veteran Corps pin presentation taking place across the country throughout the month of November.
"Our commitment to veterans and their families is deep and it's twofold:  We serve them and we ask them to serve with us.  National service gives our heroes a new mission on the Homefront, a pathway to opportunity, and a better transition to civilian life," said Wendy Spencer, CEO of the Corporation for National and Community Service.  "The National Veterans Corps recognizes the family of Senior Corps volunteers carrying out the spirit of our shared values of devotion, honor, and service to our great nation.  This month is an opportunity to salute those who are serving our country again, while bringing attention to the critical work being done by veterans-focused national service programs."
Gabe, Ron and Dave who are veterans were presented with a special pin, joining thousands of national service members across the country in the National Veterans Corps.  They are a part of the Foster Grandparent Program of NW MN.  Gabe, Ron and Dave have provided countless hours to children throughout our service area states Heidi Simmons, director of Senior Programs.  These three Veterans have been a part of the program for 12, 9, and 7 years respectively, making an impact in over 350 + children's lives.
To be a part of the Foster Grandparent program and add your impact to a child's life, please contact the Foster Grandparent Program at 1-800-584-7020 or 218-281-5832.
Photo Caption- (L-R) Gabe Amon, Twilia Evans (accepting for her husband Ron), Dave Vanderhoff