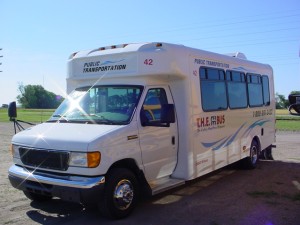 Tri-Valley Opportunity Council, Inc. along with Tri-Valley Transportation is excited to announce that T.H.E. Bus now offers new in-town services and guaranteed routes throughout its service area.
In-town services that have been utilized in communities have been expanded. Towns that now receive this service include Hallock, Karlstad, Warren, Hendrum, Halstad, Ada, and Twin Valley. T.H.E. Bus will run in these communities on certain days of the month to help residents with transportation needs. Guaranteed routes are now available each month as well. A guaranteed route means it will run no matter how many people have scheduled a ride. Passengers that can utilize these routes will have peace of mind knowing that they will be able to get to their destination no matter the number of riders.
Also available to riders in May are two "Special Trips". On May 16, T.H.E. Bus will take riders to Honker Flats Green House in Middle River. On May 20, T.H.E. Bus will take riders to Bergeson's Nursery in Fertile.
For more information on in-town services, guaranteed routes, or special trips call 1-800-201-3432. Information and monthly calendars can also be found at www.tvoc.org/services/transportation/.
T.H.E. Bus is a curb to curb service and provides public transportation services to the general public in seven Minnesota counties, Polk, Red Lake, Norman, Marshall, Kittson, Pennington and Clearwater. Buses run through these counties on various days with various destinations. Tri-Valley public transit buses are available with no age limits or income guidelines. Buses have seating available for up to 45 passengers. Each bus is handicap accessible with two accessible entrances. If passengers are unable to use the door he/she may request the use of the lift. Each driver has been trained to properly use the lift and secure mobility devices within the buses.