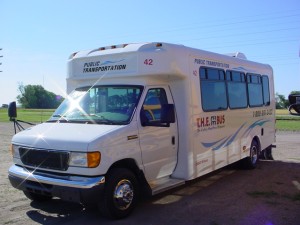 Tri-Valley Opportunity Council, Inc. along with Tri-Valley Transportation announced today that due to increased public transportation needs, T.H.E. Bus has added hours on Saturdays in Crookston and Thief River Falls.
T.H.E. Bus will run in both communities from 10 a.m. – 4 p.m. on Saturdays. The Saturday hours have numerous benefits for Crookston and Thief River Falls since public transportation is used for a variety of reasons including but not limited to, medical, nutritional, social, recreational, shopping, work, school, and other personal activities. In addition to Saturday, T.H.E. Bus has daily weekday service from 6 a.m. – 6 p.m. in these communities. For more information on Tri-Valley Transportation options visit www.tvoc.org. For questions or to schedule a weekday or Saturday ride on T.H.E. Bus please call 1-800-201-3432.
T.H.E. Bus is a curb to curb service and provides public transportation services to the general public in seven Minnesota counties, Polk, Red Lake, Norman, Marshall, Kittson, Pennington and Clearwater. Buses run through these counties on various days with various destinations. Tri-Valley public transit buses are available with no age limits or income guidelines. Buses have seating available for up to 45 passengers. Each bus is handicap accessible with two accessible entrances. If passengers are unable to use the door he/she may request the use of the lift. Each driver has been trained to properly use the lift and secure mobility devices within the buses.