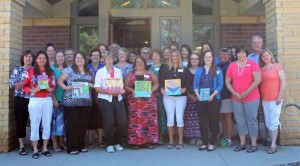 Article and Photo courtesy of the Mankato Times
OWATONNA, MINN. — Representatives from early childhood organizations gathered at the office of the Southern Minnesota Initiative Foundation (SMIF) in Owatonna today to celebrate 13 years of the BookStart program and 28 new BookStart awardees.
This year, SMIF awarded 10,000 books with a total value of $163,421 in partnership with Capstone,a leading publisher of children's books and digital products and services. Together, the organizations have placed approximately 80,000 books into the homes of children across southern Minnesota. The goal is that every child has a book of his or her own at home to read or be read to by family members, which promotes a life-long love for reading.
Studies consistently show that reading at a young age drastically improves a child's educational trajectory. Not only does reading aloud help children acquire early language skills, it fosters curiosity and memory and helps children develop positive associations with reading.
"Reading should be fun, accessible and engaging, for both children and their caregivers. Capstone has been a great long-time partner with our BookStart program towards this goal," said SMIF's President and CEO, Tim Penny. "We believe investing in our young children is a long-term strategy that will pay big dividends for our communities and businesses."
The following organizations received BookStart grants because they provide outstanding early literacy opportunities for young children and their families. The organizations will incorporate the books into their programs and events where young children will receive one of the books to take home and keep.
Albert Lea Area Schools
Austin Public Schools
Chatfield Public Schools
Fairmont Area Schools
Freeborn County Public Health-Healthy Families
Freeborn County Thrive Initiative
Gibbon-Fairfax-Winthrop Schools
Help Me Grow, Waseca County
Kasson-Mantorville Community Education
Kingsland Public Schools, Spring Valley
New Prague Area Schools
New Ulm Public Schools
Owatonna Public Schools
Rochester Public Library
Rochester Public Schools
Saint John's Grandkids, Springfield
Saint Paul Lutheran Church, Fairmont
Semcac Head Start, Rushford
Southern MN Education Consortium, Adams
Stewartville Public Schools
The Center Clinic, Dodge Center
Three Rivers Community Action Incorporated, Northfield
Tri-City United ECFE- Early Childhood Screening, Montgomery
Tri-City United Public Schools, Montgomery
Triton Public Schools, Dodge Center
Tri-Valley Opportunity Council Incorporated, Rochester
Wabasha Kellogg Public Schools
Watonwan County Public Health
As part of its strategy to invest in economic growth here in southern Minnesota, SMIF has supported early childhood efforts to make certain all children enter school fully encouraged, prepared, and supported for learning success. Over the past ten years, SMIF has invested $1.6 million annually for early childhood development initiatives. SMIF has also established 21 community coalitions as part of the Minnesota Early Childhood Initiative. Each coalition is developing their collective early childhood vision and implementing local projects to strengthen early care and education for young children and their families.
About Southern Minnesota Initiative Foundation
Southern Minnesota Initiative Foundation (SMIF), a donor-supported foundation, invests for economic growth in 20 Minnesota counties. The Foundation has provided more than $50 million in grants and loans within the region during the past 29 years. SMIF's key interests include early childhood and economic development. To learn more about our work and mission, visit www.smifoundation.org.
About Capstone
Capstone is a leading publisher of children's books, digital solutions and services, literacy programs, and K-12 professional development resources. Capstone creates content in a variety of print, digital and media formats for school libraries, classrooms, and at home reading. Capstone's business units include Capstone Library, Capstone Classroom, Capstone Young Readers, myON, and Capstone International. For more information, visit www.CapstonePub.com.