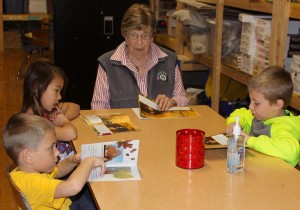 By Mathew McKay, Special to the Herald on Nov 5, 2014 at 8:00 p.m.
To Hazel Trogstad, no one is ever too old to volunteer.
The Fosston, Minn., resident is performing her 10th year of service after turning 79 in August.
Once a high school library assistant, Trogstad now works with children at Magelssen Elementary School in Fosston with longtime friend and licensed teacher Sue Skunes.
Trogstad is one of five foster grandmothers at Magelssen Elementary working with students and one of 81 foster grandparents in the area. The Foster Grandparent Program is run by the Tri-Valley Opportunity Council, headquartered in Crookston.
The program brings together volunteers 55 and older and youth in 11 northwest Minnesota counties. A similar program operates in North Dakota.
The grandparents volunteer in schools, Head Start centers, developmental achievement centers, nonprofit childcare centers, juvenile detention centers and other settings.
The program is close to the heart of Heidi Simmons, Tri-Valley's director of senior programs. Her own children have worked with volunteers and enjoyed the experience. She said the grandparents bring a different element to the classroom.
"(The younger kids) are not so much interested in impressing a teacher," Simmons said. "It's more that they want to impress the grandparents with what they learned or what the grandparent has taught them."
Rewarding experience
Looking back on her time as a library assistant and foster grandparent, Trogstad said each job has had its difficulties but she has enjoyed both.
"Working in the library of the high school was challenging because the students would come in with projects, and we would have to help find information on whatever they were doing," Trogstad said. "Now it's challenging helping these new students, kindergarten through second grade, who have problems reading — to help them learn the words and the sounds."
Despite some struggles, Trogstad said being involved is rewarding.
Trogstad started volunteering as a foster grandparent in a fifth-grade classroom after her husband died and she was invited to join Skunes in the classroom.
Skunes said working with Trogstad has been invaluable.
"It's wonderful having another adult in the room. Everything from a nose bleed to someone who was not in class — she would help that child get caught up and kind of reteach them from the day before," Skunes said.
Together, the friends spent seven years teaching fifth grade before moving to the new Level Literacy Intervention Program room, where they work with students who are reading below their normal level.
Study buddies
This year Trogstad and Skunes have been working with 18 students from first and second grade, usually in groups of three. While the number stays about the same throughout the year, students come and go.
"We will have some of them for the whole year if they need it," Trogstad said. "If they excel, keep reading real good and continue working good in the classroom, then they will go back to working in the classroom only and we will get new students."
Trogstad has become accustomed to working with students a few times a week in hopes they reach the point when they can rejoin their classmates.
"I really enjoy having them read to me, from now until say a month from now, to know how much they have improved in their readings," Trogstad said.
Outside of normal class days, Trogstad said they encourage the students to read a few books at home as well.
"We do not care if they read to their mom, dad or their teddy bear — we just encourage them to read at home," Trogstad said.
She said while it's tough seeing students move out of the program every year, it means a new beginning for them.
"I like being able to meet the new children" she said. "I like the fact that we have worked with (past students), but now they can go on and be better students as they grow older."