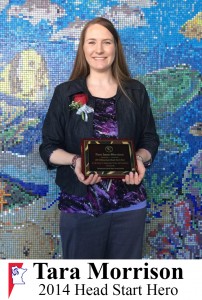 The Minnesota Head Start Association (MHSA) recently honored Tri-Valley Program Area Manager Tara Morrison as a Minnesota Head Start Hero (Head Start alumni who became involved in their local community and made a difference). Morrison was recognized at the Minnesota Head Start Heroes Ceremony held at the Science Museum of Minnesota in St. Paul, Minn. on March 5, 2014.
Morrison's Head Start experience began when she was four years old. Her parents divorced and her mother was now a single, unemployed parent raising two children. Her mom decided to "Open-the-Window" for her children and enrolled her brother into the Head Start Program.  Being the younger sister, Morrison looked up to her brother and wanted to be just like him. The following year she was enrolled in Head Start and her journey began with her Head Start graduation in 1986.
"Head Start gave us the sense of family that we needed at that time in our lives," Morrison states. "It gave me the skills and foundation that I needed to be ready for Kindergarten and beyond," she adds.
Morrison went on to attend the University of Minnesota- Duluth. The second summer she returned home from college, she applied for a paraprofessional position with the Tri-Valley Migrant Head Start Program. During this time, she applied for and received Professional Development Funds. She went on to graduate from college with her teaching license and obtained all the additional credits needed to become a Head Start Teacher. She has been a Mentor Supervisor, Center Manager, and is now a Program Area Manager for the Tri-Valley Opportunity Council, Inc. Migrant and Seasonal Head Start program. Tara is married to Jay Morrison and they have two sons that attend the Jaguar Kid Connection child care center in Brooten, Minn. which collaborates with Tri-Valley.
"I am proud to say that Head Start and Tri-Valley Opportunity Council, Inc. have helped me achieve my dreams.  I would not be on this wonderful journey if it wasn't for the support that my family and I received from Head Start," says Morrison. "I believe in the mission of Head Start and am truly honored to be able to help Head Start children and families," she adds.
Head Start Heroes is an annual event that honors members of the Minnesota Head Start community who overcame tremendous challenges and achieved personal and family success. These children, families, alumni and staff members have been selected by the Minnesota Head Start Association Scholarships and Awards Committee based on compelling, personal testimonies about their Head Start experience and how they were able to transform their lives. The Head Start Heroes epitomize how determination, fortitude and access to early learning and whole-family approaches can pave the way to lifelong success.
For more information on Tri-Valley's Head Start/Early Head Start or Migrant & Seasonal Head Start programs visit the Tri-Valley website at www.tvoc.org or call 1-800-584-7020.
More photos can be found at www.facebook.com/TVOCInc.