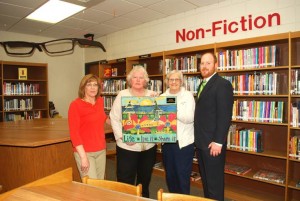 (Article and photos courtesy of Laurie Swenson and the Fertile Journal)
Although both have passed on, more than memories of two Foster Grandparents can be found at the Fertile-Beltrami School.
In the pre-school classroom, five sets of Early Scholastic Readers were given in memory of Arlene Edlund.
In the school library, a colorful painting serves as a memorial to John Wahlin.
"John Wahlin and Arlene Edlund were volunteers with our program for many years. They both passed away a few months ago and some donations were made to the Foster Grandparent Program, so we gave these things to give to the school in their memory," said Jeanette Larson, senior programs man- ager for Tri-Valley Opportunity Council, Inc., Crookston.
On the breezy, sunny April 14 morning, Larson went to the school. Along with Principal Natty Messick, she first visited Kristi Gullickson's preschool classroom.
Gullickson and Foster Grandmother Doris Michaels accepted the 125 books given in memory of Edlund.
Arlene Edlund, 81, died Dec. 22, 2014, at Villa St. Vincent Nursing Home in Crookston.
The next stop wa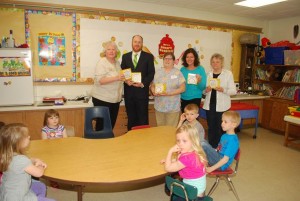 s the school library, where they presented Librarian Joni Page with the painting. "Grandpa John would have loved it," Page exclaimed.
Bright red stylized daisies bloomed by a sapphire lake lit by the rays of a rising sun. Across the bottom irregularly block letters spelled "Life. Live it. Share it."'
John Wahlin, 86, Rindal, died Dec. 8, 2014 at his residence.
"John always said he got more out of being a Foster Grandparent than he ever put into it. He loved the kids, loved the school," Larson said.
"I know Arlene, in her quiet, gentle way, took great joy in helping the little ones," Larson continued.
Foster Grandparents – men and women 55 and older – volunteer in schools, Head Start and developmental achievement centers, non-profit day cares and juvenile centers under the supervision of a teacher or childcare professional.
They assist children with activities in which they need assistance and mentor children and youth. Foster Grandparents give children individual attention and tutoring. "They share their wisdom and experience," Larson said.
People 55 years and older receive a tax-free stipend, daily meal, transportation, transportation allowance, ongoing training and other benefits.
"We offer a rewarding opportunity to supplement your income without affecting Social Security, Supplemental Security Income, Social Security Disability or any services you may be eligible for based on income," Larson said.
Meals are provided to Foster Grandparents volunteering three or more hours each day.
"Schedules are flexible with a commitment of 15 hours or more a week," Larson said.
According to Larson, training is provided for Foster Grandparents, starting with orientation to the program and volunteer assignment, site visits and continuing in-services and workshops.
Foster Grandparent opportunities are available in Polk, Clay, Becker, Kittson, Lake of the Woods, Mahnomen, Marshall, Norman, Pennington, Red Lake and Roseau counties.
For more information or to join the Foster Grandparent Program, contact Larson at 1-800-584-7020 or 1-218-281-5832 or Jeanette@tvoc.org.