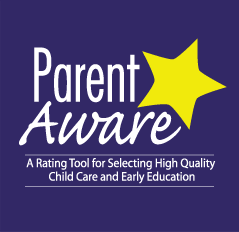 The Child Care Aware Program at Tri-Valley Opportunity Council, Inc. announced today that local child care programs are seeing stars; Parent Aware Star ratings that is. Kim Feiro, Karen Salentiny, Sunrise Center for Children and Families in Crookston and Susan Weber and June Kassa in East Grand Forks recently completed the Star Rating process called Parent Aware.
Parent Aware is a rating tool designed to ensure that child care programs are delivering quality services. It's also a tool parents can use to find quality child care and early education programs in Minnesota. The Star Rating is the result of a thorough process that involves learning, coaching, and training. All Star-Rated Programs go above and beyond licensing requirements to support quality and school readiness. By voluntarily becoming rated, a program shows it cares enough about early learning to use the best practices and proven approaches. At each level, quality indicators are measured in four key areas: physical health and well-being, teach and relationships, assessment and child progress, and teacher training and education. The rating acts as a Consumer Reports style symbol of quality and is posted to the Parent Aware website at www.parentawareratings.org.
Participating programs have volunteered for extra, in-depth training, devoted themselves to strong, caring relationships with each child, adopted the latest approaches to keeping children's learning on track, committed to daily activities and routines that help children learn and grow, and place a focus on children's health and safety. During the process, each program participating in Parent Aware is given access to quality improvement grants and a consultant who coaches them through the process.
For more information on Tri-Valley's Child Care Aware program visit the company's website at www.tvoc.org or call 1-800-584-7020.