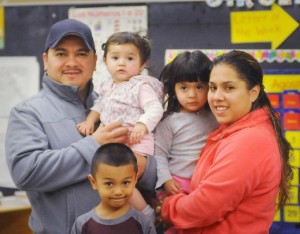 By MARIE WOOD | Posted: Sunday, October 26, 2014 12:10 pm (The Land Online)
Education Season: Part 1 of a 2-part series on support for the children of migrant farmworkers
The banner reads "Para Los Ninos" (for the children) and hangs outside the Migrant and Seasonal Head Start and Early Head Start center housed in the old grade school in Elysian, Minn.
Inside, migrant children, six weeks to age 5, are getting kindergarten ready as they learn, play, eat and nap. Most of the parents work at the pea and corn packing plants in Waseca and Montgomery, Minn.
One of the biggest challenges for migrant children is the disruption of their education. That's why the national Migrant Education Program, provides educational and support services to eligible migrant children between the ages of 3-21 each year. Head Start and Early Head Start serves pregnant women and children through age 5.
Isabel Ramirez and Eric Silva of Faribault, Minn., have three children that are bussed to and from the Elysian center, which provides Head Start services from 7 a.m. to 3 p.m. weekdays. The couple worked first shift at Birds Eye Foods in Waseca, packing peas in June and July and then rolled into corn packing through September.
"This is a really great place for all the children and for us as parents, because we're not worried. They take care of them good. They eat well and learn a lot," said Eric through a translator.
The children seem happy and at home here. Marilyn, 2, and Damien, 4, played with the dollhouse in the preschool room. Sofia, at 9 months, followed suit until her attention was captivated by taking colorful toys in and out of a box. Next Damien turned to Duplos and counting. Marilyn served up food from the play kitchen stocked with multi-cultural food from sliced bread to tortillas and beans.
"They learn to speak English and Spanish, how to play with other kids. They help them get potty trained," said Isabel. "Marilyn has learned a lot since she's been there. They're very kind here."
Education, health services
The Elysian Migrant and Seasonal Head Start and Early Head Start Center is one of 14 centers in Minnesota operated by Tri-Valley Opportunity Council. The centers combine education with support services to assist families from May through December.
"We offer early childhood education, health services, we make sure they are up-to-date on their shots and offer resources for medical and dental treatments," said Laura Elfert, center manager.
Eric and Isabel's is one of the lucky families, because they aren't moving at the end of the season. Last year, they returned to Wisconsin, where they lived with Isabel's mom. That means their eldest daughter, Briana, 10, won't have to change schools this year. They are staying in their rented home in Faribault and working in a Mexican restaurant until their packing jobs resume next June.
Many migrant families from the Elysian center have returned to their home state of Texas. In 2014, the center served 63 children and pregnant women and will continue providing services into December.
Isabel, originally from Guadalajara, Mexico, grew up in Wisconsin on a dairy farm owned by her parents. In the summer of 2013, Eric and Isabel brought their family to Minnesota to apply for jobs at the Birds Eye plant. Isabel had worked for Birds Eye Foods in Wisconsin. That summer, Isabel saw a flyer for the center and called. Liz Zamora, Tri-Valley Opportunity Council recruiter and family advocate, helped the family find a rental house and enrolled them for services. The family is grateful for the excellent care and resources. For instance, the family received car seats and learned how to use the seats properly.
"They (car seats) are very expensive and we can't afford it," said Isabel.
At Head Start parent meetings, Isabel has made friends — most of whom she won't see again until next summer. Already a loving mom, the meetings taught her about child care and development to improve her parenting.
"I learned how important it is to brush their teeth," said Isabel.
Isabel and Eric are looking to their children's future. Eric graduated from high school in Guanajoato, Mexico, but Isabel never graduated from high school. While Isabel wants to earn her GED, she has higher aspirations for her children. Isabel's dream for them is "to study, be happy and healthy, and to go to college."
Serving migrant families
The Migrant and Seasonal Head Start and Early Head Start mission is to cultivate lifelong learning in children and families, while the short-term goal is kindergarten readiness. To that end, children are screened for development.
If delays are diagnosed, family advocates connect the families with services such as speech or physical therapy. Sometimes family advocates or the center nurse will transport the children to medical appointments. Throughout the process, Zamora sees the parents grow and learn about their child's development.
To identify families in need of migrant services, Tri-Valley's recruiters and family advocates meet with human resources and managers at packing plants, as well as with farmers and orchard growers. Sometimes the plant managers are not interested, said Melanie Wolff, recruiter and family advocate at the Elysian center. Many managers are grateful so the recruiters go to break rooms to talk to workers. All the recruiters and family advocates speak Spanish and English.
"We work to form partnerships with workplaces and farmers, as well as local community resources including food banks, churches and landlords in order to meet the needs of families," said Elfert.
For three summers, Zamora has been helping migrant families in southern Minnesota. The three biggest needs are clothing, food and housing. One of Zamora's families needed a table where they could eat their family suppers. Most are in need of warm clothes, hats and sweaters for their children.
"They don't come prepared for this weather," said Zamora.
Support services can also include helping parents get scholarships to obtain their GEDs.
Zamora's heart goes out to her families that pack up and head back to Texas and other states every October. With each family, Zamora sets goals and makes a plan to transition them to the next school district.
"It's hard for school-aged children because they just get started at school," she said.
In Minnesota, Tri-Valley Opportunity Council identified 1,767 migrant children in 2012-13. On average,
1,300 children age 3 to 21 are served annually in the Migrant Education Program.