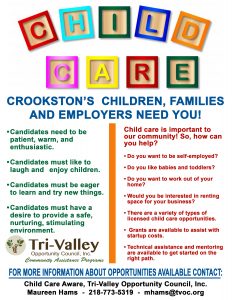 (Article by Mike Christopherson – Crookston Daily Times)
Maureen Hams, with Child Care Aware at Tri-Valley since 1989, says she's never seen a shortage of licensed child care slots this severe in Crookston, and she acknowledges she thought a state grant to help tackle the problem would have had a much greater impact by now
Maureen Hams has been at this for a long time, since 1989, to be exact. She supervises several programs under the large Tri-Valley Opportunity Council umbrella, and one of them is Child Care Aware, which provides technical assistance, resources, and other forms of support to child care providers and parents, as well as communities who are looking to grow their licensed child care options.
In other words, Hams is an expert, an expert who's never seen a child care shortage in Crookston as severe as the current one.
The thing is, when the Minnesota Department of Employment and Economic Development last year awarded a $50,000 grant to Tri-Valley to work specifically on reducing the shortage, in partnership with the City of Crookston and other stakeholders, Hams figured all of the money would have been given out by now, in the form of mini-grants to new licensed child care providers.
But that's far from the case. As of this week, only four mini-grants have been awarded, eating up only $8,000 of the $50,000 grant. The window to spend the grant money has already been extended once by the state, Hams said, but the Dec. 31, 2018 deadline to spend it all or give it back will be here in no time, meaning progress better ramp up significantly and in short order.
"My expectation was we'd get 10 new providers and it would be a piece of cake," Hams said during a chat in the Tri-Valley conference room. "It has not happened, and I am surprised."
City Administrator Shannon Stassen, who serves on the committee formed to address the shortage and has had many discussions with Hams, said he remains confident that "Crookston will see an increased number of child care slots" over the next year.
The committee on which Hams, City officials and other stakeholders serve has no choice but to keep plugging away, she said. "We just have to keep working and find the right fits, because this (career) isn't just for anyone," Hams said. "You need the right person who has the right passion for kids, and yet a business sensibility so you can run your business. Plus, your home has to meet certain requirements."
CHILD CARE STORY STATISTICS
How many home-based child care slots are there currently in Crookston? 180
How many center-based child care slots are there, such as at the U of M Crookston's Children's Center? 164
A "gap analysis" of the child care shortage in Crookston determined how many additional slots just for infants are needed? 121
The initial goal of the $50,000 grant from the state was to add how many licensed child care slots in Crookston? 130
Since the $50,000 grant from the state was awarded more than a year ago, how many mini-grants have been awarded in Crookston and how much of the grant has been spent? 4 mini-grants have been awarded, totaling $8,000 of the $50,000 total grant
With one extension already approved, what's the deadline to spend the entire $50,000 grant, otherwise the unspent funds have to be returned to the state? Dec. 31, 2018
But on the other hand, child care providers get to be their own boss, they get to set their own hours, and they choose families and kids that are the best fit with them philosophically, Hams added. "Of course the family is interviewing you as well, but that's what's beautiful about this…finding the best fit both ways," she said.
According to Hams' latest data, Crookston is currently home to approximately 180 licensed home-based child care slots, and 164 child care center-based slots, such as the Children's Center at the U of M Crookston or the Sunrise Center at the Cathedral Church. The initial goal of the grant was to add 130 licensed child care slots in Crookston, Hams said, and by far the greatest need right now is for infant slots. In an "initial gap analysis" for Crookston, it was indicated that the community needed 121 more spaces for infants alone.
Regulations over burdensome?
As more time has passed and the grant's impact has lagged behind expectations, a storyline has emerged that new providers are hesitant to enter the licensed child care field because the myriad of rules and regulations are too strict. While Hams said she hears various complaints from time to time from experienced providers when the association of local providers gets together for meetings, she also thinks that new providers might be more willing to accept the regulations, even some of the newer ones that have been especially criticized, because they don't know any better, and they might actually want as much guidance and direction as they can get.
"It's the first time in the business so they don't know how to do it. 'I have to do pre-training? OK. I have to follow these requirements? OK, I can do that,'" Hams explained. "They don't have another perspective; their only perspective is they're caring for other people's kids, so there should be rules."
In her view, Hams said concerns about regulations pale in comparison to lack of health insurance for child care providers. "If you need health insurance, this is not the business for you," she noted.
Hams agrees some regulations can be a bit much, like a new one that would require immediately family members of home child care providers to be photographed and finger-printed. But another new regulation, the requirement to formulate and post an "emergency plan" in the event of an emergency, are for the most part based on common sense. "If something happens, when you do evacuate? How do you evacuate? When do you shelter in place?" Hams said. "Those are things you'd want to know and have established, I would think."
Center-based approach
Hams acknowledges that providing so many new licensed child care spaces in Crookston is going to be even more of an uphill battle if a few slots are simply added here and then via home-based child care operations. A "center-based solution" would obviously have a bigger impact, but she also knows that opening a child care center or two involves a much larger scope, likely more partners, and a lot more money.
"On the infants and toddlers solution alone, a center would be a really big step," Hams said, adding that she thinks incorporating a center-based approach as stakeholders work to add child care spaces in Crookston is wise. "Yes, it's expensive, yes, there are regulations, but for a community the size of Crookston, a center is a realistic option," she said.
A sort of hybrid between a center and a home-based operation would be a central location where multiple providers have their own specific place for the kids in their care under one roof, but then they share a common outdoor space, restrooms and a kitchen area. There was some quiet chatter recently in Crookston about possibly having a similar operation in a potentially renovated Central Junior High School building downtown, but Hams, while liking the concept, said that wouldn't be doable…yet. The state Department of Health and Human Services hasn't yet decided if it will allow such an operation, so right now it would be a "no go."
The poster child that is spurring growing interest in child care operations on a similar scope is found in Detroit Lakes, Hams said, where the operation revolves around Head Start. "The state is wondering if it's a good idea to do it without the Head Start collaboration," she said, adding that the debate might end up involving the legislature at some point.
Pressure created by shortage
When Hams attends gatherings of the local child care provider group, she hears constant chatter about the shortage, who's getting the most calls from parents in search of child care, who has the longest waiting list, etc. She heard one provider recently had a waiting list 26 names long.
"Since I've been doing this, there have been constant ebbs and flows, but this is the worst I've seen it," she said. "We've done recruitment projects over the past 25 years, and then we've actually had too many (available child care spaces). Now, I don't think that will be a problem."
Experienced providers are retiring, she said, and there's no one to fill the void. Whether it's local businesses not being able to attract workers or school district enrollment suffering, Hams said she agrees that at some point a child care shortage of the degree Crookston is currently experience does "start to stunt" community growth and progress.
"We seem to have viable locations but a shortage of providers may be the biggest challenge right now," Stassen told the Times. "Like every profession, child care is experiencing a loss of quality workforce due to retirement. We are working hard to replace those valued providers."
Hams said efforts to publicize the grant have run the gamut. Efforts have especially been made to target young families that might see the benefit of having a parent watch their own children for free at home while getting paid to take care of children from other families, Hams noted. Word of mouth is often an effective tool, too.
"There might be a provider working with a family and she says, 'You know, you'd be good at this, too,'" she said. "And students at UMC, we've had good luck with a few of them that have gotten into the business."
Students at UMC studying early childhood and early childhood education need to know, Hams noted, that they will have job security. "You're not going to make a ton of money, but you are going to be employed," she said. "And it's especially a win-win if you have your own kids."
The fact that the extreme child care shortage remains in Crookston and that investments courtesy of the grant have been painstakingly slow to transpire hasn't dampened Hams' enthusiasm. If nothing else, it's shown how critically employment high-quality and high-quantity child care is to a community, and even a region.
"It's exciting for the child care field, to be able to say we are a part of the infrastructure in a community," she said. "How will we manage community growth without child care? It's exciting to watch the change this growing need is having on our industry. People are taking these jobs extremely seriously, they see how important this rewarding work is to a community."