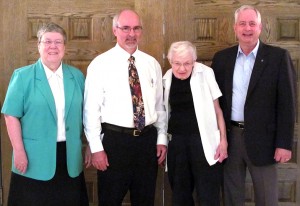 Courtesy of the Crookston Times.
Crookston –  A donation of $2,600 from Bremer Bank in Crookston to the Mount Saint Benedict will go toward the replacement of windows in the Good Shepherd Hall.
Together with funds raised by Mount Saint Benedict and funding from the Tri-Valley Opportunity Council, Inc. work will now begin in replacing many of the windows in the Good Shepherd Hall, allowing for energy conservation, warmth and comfort to the residents of this facility for aging sisters at the Mount.
In an energy audit of the Good Shepherd Hall done in the spring and summer of 2009 it was discovered that significant energy conservation measures were needed to bring the facility up to new and modern standards of energy conservation.
Tri-Valley initiated the energy audit and sought funding from the Minnesota Department of Commerce through the American Recovery and Reinvestment Act of 2009. It was later determined by the funding source that the work could not go forward due to technicalities of eligibility.
Still, with the commitment of the Mount Saint Benedict, Great Plains Natural Gas and the work of Tri-Valley, funds were raised from private individuals and groups to afford the attic insulation and air sealing of the Good Shepherd Hall with work completed in the spring of 2011. Nearly $5,000 in cost savings were achieved the first year. Left to be completed was the replacement of sixty-eight windows.
Today, with the donation from the Bremer Bank, funds raised by the Sisters of Saint Benedict and funding provided from Tri-Valley a package has been generated that will allow work to be completed this summer in replacing the old windows at Good Shepherd Hall.
Sr. Brian Wild shared that, "This project has been a long time in the coming. We really appreciate the generous gift from the Bremer Bank which puts us over the top in funding and now we can get the project completed."
Jim Snyder (President of the Bremer Bank of Crookston) noted that, "This donation on behalf of the Bremer Bank of Crookston is intended to finalize the financial funding necessary to get these windows replaced at Good Shepherd Hall. Working with Tri-Valley and the Sisters of Mount St. Benedict is an honor and we are happy to help. The Sister's ministries have had a tremendous impact on many people in Northwest Minnesota over the past 75 years. Bremer is glad to assist in this effort and wish the residents of the facility comfort, warmth and security in their residence."
Since 2010 nearly $75,000 has been raised to insulate and seal the attic and replace the windows. With the work scheduled to be completed this summer the project will culminate in a much more efficient and comfortable environment for the residents of Good Shepherd Hall.
Photo (L-R)- Sister Jennifer Kehrwald, Bremer Bank President Jim Snyder, Sister Brian Wild, and Tri-Valley Opportunity Council, Inc. Executive Director Dennis P. DeMers.
Photo by Mitch Bakken (TVOC)