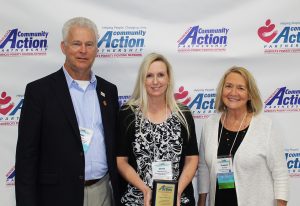 Tri-Valley Opportunity Council, Inc. staff attended the Minnesota Community Action Partnership (MinnCAP) Annual Training Conference held on July 31 – August 2 at the River's Edge Convention Center in St. Cloud, Minn. Staff took part in legislative general sessions, listened to speakers on various topics, and took part in several educational breakout sessions.
In conjunction with the annual training conference, 25 Year Honorees were recognized for their dedicated service and commitment to Community Action. Tri-Valley's Cindy Boudreaux (Health Services Manager) was honored for her 25 years of work with Tri-Valley in Crookston.
(A short bio on Cindy from the event): Cindy started her Head Start experience as a Head Start child where she was introduced to new and exciting things she had never seen before. For the past 25 years, Cindy has undeniably impacted countless children and families through her work.
Cindy has been instrumental in providing high quality, innovative health services and health education to children and parents. Her team provides CPR training, educates Pregnant Women and performs Child and Teen check-ups, which generates income for the program. Admirably, while doing this, Cindy is a strong advocate for families and staff, displaying empathy and compassion in everything she does.
(Photo L-R): Arnie Anderson (MinnCAP Executive Director), Cindy Boudreaux, and Francie Mathes (Office of Economic Opportunity)