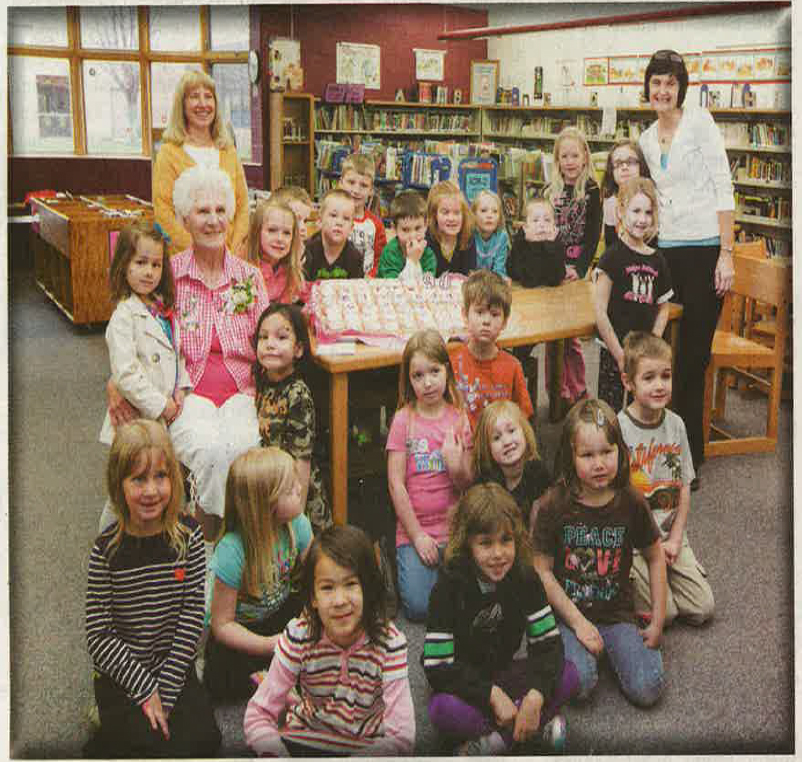 Courtesy of Thirteen Towns, Fosston, MN
Grandma   Pearl   gives a whole new meaning to "Meeting the Rule of Ninety." The Rule of Ninety is a formula used to determine retirement benefits in the teaching profession. When the number of years of service combined with your age totals ninety years, you can qualify for full pension benefits.
If Grandma Pearl Birkeland was a teacher, and qualified for a pension, she would meet the Rule of Ninety on the basis of her age alone. Grandma Pearl is ninety years old.
But Grandma Pearl won't get a pension, and she doesn't get a pay check. She's a volunteer. And she has been- every day of every school year for eleven years. Grandma Pearl, along with Grandmas Mary Thorstad, Hazel Trogstad and Vickie Olson are all Volunteer Grandmothers, and are the darlings of Magelssen Elementary School. The kids love them, they love the kids, and they provide the school with four additional staff members with no additional funding requirements. You could buy a sizable pile of textbooks and supplies with the money these four ladies save our school district every year.
Tuesday last, the school threw a little party as a combination 90th Birthday and retirement party for Grandma Pearl.  Yes, Grandma Pearl is retiring. Grandma Pearl doesn't have very big feet, but she'll leave behind some mighty big shoes to fill. Do we have any Grandmas out there who have some time to give, and want to do some­ thing positive and constructive?
Photos by Dean Vikan